Kurdish rebels use Facebook to recruit young autistic Briton to fight ISIS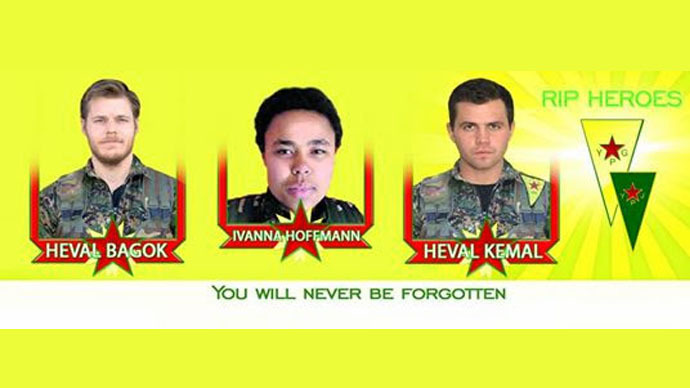 Kurdish rebels used social media to lure an autistic man in his early 20s into fighting against Islamic State (formerly ISIS/ISIL) in Iraq, it has emerged.
The young man, who is thought to be in northern Iraq, left Britain in April to fight alongside the Kurdish Peshmerga, The Times reported Tuesday.
He was recruited online via the rebel group's foreign legion, the Lions of Rojava. The Kurdish fighters' international brigade reportedly recruits via Facebook under the slogan:"Send ISIS terrorists to hell and save humanity."
USA / British Valley Special Ops. veterans joining #YPG for the battle against #ISIS in #Rojava, Syria, (More soon) pic.twitter.com/R0ZhRoX2jR

— The lions of Rojava (@Thelionsofrojav) November 5, 2014
Although the young man's identity has not been released, The Times say he hails from Newark-on-Trent in Britain's East Midlands. He has no family connections in Iraq.
Conservative MP Robert Jenrick for Newark-on-Trent raised concern for the man's welfare on Tuesday in the House of Commons.
Addressing the House, Jenrick described the Peshmerga fighters as "brave."
But he called upon Foreign Secretary Phillip Hammond to speak with the Kurdish regional government about the Lions of Rojava's recruitment practices.
"It cannot be in our or their interests for vulnerable British citizens … to be put in danger or at risk of being captured by ISIS," he said.
#Rojava JORDAN MATSON train the #lions_of_rojava + #LIBARTY_LIONS how to fight #ISIS#Syria#TwitterKurds#Syriapic.twitter.com/OskTV4d93E

— Kovan Direj (@kovandire) June 6, 2015
On Monday, Jenrick told The Times that online platforms such as those manned by the Lions of Rojava are not being targeted because the Kurdish Peshmerga are allies of the British state.
He also warned that vulnerable ex-military officers suffering from post-traumatic stress disorder (PTSD) are being recruited by the group when they are not "ready to return to a conflict zone."
RT approached the Lions of Rojava for comment on Tuesday. The group is yet to respond.
A spokesman for the Home Office told The Times: "This government takes seriously the threat from online terrorist and extremist propaganda, which can directly influence people who are vulnerable to radicalization, and we are working with the internet industry to remove terrorist material."