Malala Yousafzai's attackers secretly released by Pakistani court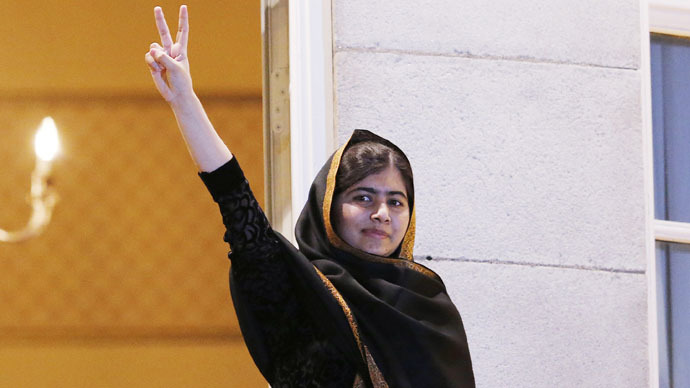 Only two of the 10 men charged with attacking Nobel Prize winner Malalai Yousafzai are still in prison, despite reports they were all handed life sentences by a court in Pakistan, it has emerged.
In April, Pakistan authorities announced the Taliban militants who shot Yousafzai in 2012 had all been handed life sentences for their part in the attack.
She was shot in the head while traveling to her Swat Valley home on a school bus, having offended the group with her advocacy for girls' education.
Yousafzai was later flown to the UK, where her injuries were treated at a Birmingham hospital.
It has since been revealed that eight of the 10 men tried in secret at a military court have been released due to "lack of evidence."
READ MORE: Nobel Peace Prize shared by Malala Yousafzai and Kailash Satyarthi
READ MORE: Malala Yousafzai wins Sakharov prize 'for freedom of thought'
A senior security source in Pakistan was quoted by the Mirror newspaper as saying the men were quietly released to avoid "a media fuss."
At the time of the trial, many questioned the level of secrecy, fears which appear to have been justified.
"The trial had absolutely no credibility as nobody was there to witness it but a public prosecutor, a judge, the army and the accused."
"But the truth is that, whether these acquitted men were involved or not in the Malala shooting, the public has been lied to."
"Ten men are not behind bars for the crime, as the Pakistani authorities would have us believe. That is a big lie," the source said.
In 2014, Yousafzai and Indian activist Kailash Satyarthi were jointly awarded the 2014 Nobel Peace Prize.
They earned the award for "their struggle against the suppression of children and young people and for the right of all children to education," the award's committee said in a statement.
"The Nobel Committee regards it as an important point for a Hindu and a Muslim, an Indian and a Pakistani, to join in a common struggle for education and against extremism," said Thorbjoern Jagland, head of the Norwegian Nobel Committee.