Cameron refuses to rule out 'nuclear option' of EU Brexit over human rights reform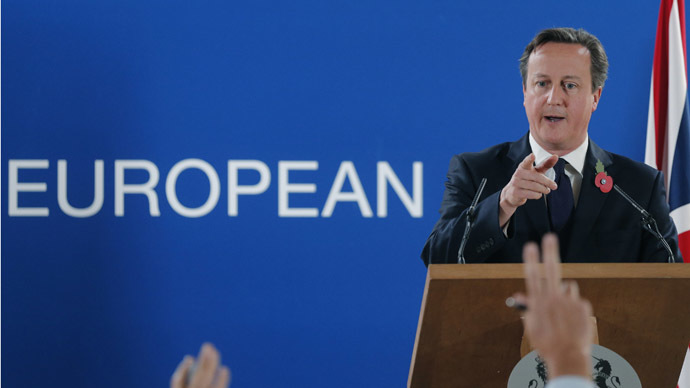 Prime Minister David Cameron has not ruled out the so-called "nuclear option" of complete withdrawal from the European Convention on Human Rights if the Strasbourg court refuses to accept his proposed reforms.
The Guardian revealed that Cameron was still willing to consider the option, which was initially proposed by former Justice Secretary Chris Grayling, if the EU rejects British plans to veto European court decisions.
The newspaper claimed that Cameron is keeping the "nuclear option" in reserve, should he face backlash from the European convention during the Conservative push to scrap the Human Rights Act (HRA).
Britain's abolition of the HRA, designed to make sure the UK's court system is the "ultimate arbiter of human rights," has been delayed until after the referendum on EU membership scheduled to take place by 2017.
'Unstoppable clamor'
Cameron is already facing trouble from Scottish First Minister Nicola Sturgeon, who will say on Tuesday that Britain would face a "groundswell of anger" should Scotland be removed from the EU as part of a UK-wide referendum.
Speaking in Brussels, the Scottish National Party leader is expected to say Scotland would rise in an "unstoppable clamor" with a "strong backlash" if the decision was made, adding that "positive change" could be made within the existing agreement.
"Polls in Scotland consistently show strong support for EU membership," Sturgeon will say, according to pre-released comments. That is why we will propose a "double lock," meaning that exit from the European Union would only be possible if all UK nations agreed. That way Scotland couldn't be forced out of the European Union against our will," she will say.
READ MORE: Cameron playing 'dangerous' game on EU referendum, says France
READ MORE: EU negotiations: RT asks whether Cameron will get his way
READ MORE: Human Rights Act: Cameron wavers in face of Tory rebellion, delays abolition
Backbench rebellion
Cameron's proposals to remove Britain from the European Convention has also been met with rebellion among his own backbench MPs.
Cameron has reportedly been told he does not have the requisite amount of support amongst his party to pass the changes. He believes that attempting to scrap the HRA at the same time as renegotiating a relationship with the EU would complicate both tasks.
'Glorious'
London Mayor Boris Johnson has added his two cents to the debate, saying Cameron should be prepared to allow the country to create a "glorious" future, unencumbered by the European Union.
Speaking in parliament for the first time since his election as an MP in the May 7 general election, Johnson said that if EU negotiations fell through, Britain could continue to succeed if it made a free-trade agreement with the bloc.
"If you are going to go into a difficult international negotiation of this kind then you have got to be prepared to walk away if you don't get the result that you want," he said.
"If we don't get the deal that is either in the interests of this country or of Europe, we should be prepared to strike out and forge an alternative future that could be just as glorious and just as prosperous with a free trading arrangement."
"We now have a Tory majority government with a clear mandate to seek change and therefore a government in the most powerful position in our lifetimes to deliver reform and improvement in Europe. We can. We can win that argument by being relentlessly positive and of course by making it clear that what we are advocating is not simply in the interests of Britain but in the entire EU," he added.