​£288mn needed for Afghanistan veteran amputees – study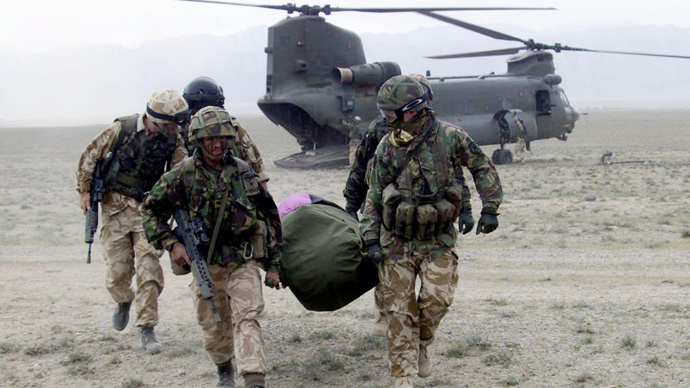 Prosthetics, trauma care and related treatment for hundreds of Afghan war amputees will cost £288 million over the next 40 years, according to a study
The study into aftercare costs for those who lost limbs in IED attacks in Afghanistan was carried out by researchers from the Royal British Legion Centre for Blast Injury Studies at Imperial College London.
READ MORE: 6 veterans per day seeking post-traumatic stress help – military charity
However, they said the projected £288 million bill could be even higher with related illnesses, loss of earning and improved – and therefore increasingly expensive – prosthetics not covered in the study's parameters.
The study, published in the Clinical Orthopaedics and Related Research journal, found that each of the 153 soldiers who lost a single leg above the knee would need £1.16million, while those who lost a leg below the knee would need £870,000 worth of treatment over the next four decades.
Speaking to the Daily Mail, co-author Professor Anthony Bull said: "Understanding the cost implications is an important part of planning how to care for injured veterans in the long-term, in order to make their lives more comfortable.
"Ongoing evaluation of these injured soldiers will be needed to assess the level and specialization of care required as they age.
"It is likely that these veterans will be subjected to chronic health problems experienced by the general population as well as specific issues as a result of their injuries."
Besides the physical wounds, the costs of dealing with mental injuries also seem set to rise.
READ MORE: 1,000 British soldiers given psychiatric help after consuming 'zombie drug' – new figures
In March, experts warned the "floodgates" of post-traumatic stress may be about to open, as a top armed forces charity claimed mental health issues among military personnel had risen 26 percent over the last year.
The charity Combat Stress, which supports veterans with mental health issues, said: "This increase is mainly accounted for by a marked rise in those who served in Iraq and Afghanistan seeking help."
Some 2,264 personnel have requested treatment with three-quarters said to be suffering from post-traumatic stress disorder (PTSD) – an average of six veterans per day over the last 12 months.
Many are also affected by depression and alcohol and drugs abuse – symptoms often associated with the condition.
You can share this story on social media: