Mankini ban credited for Cornish town's falling crime rate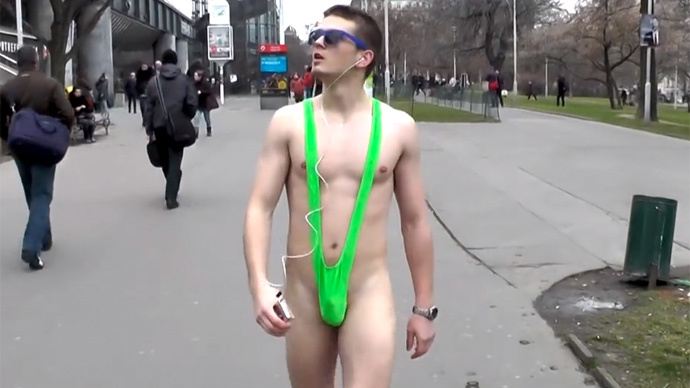 A popular British seaside resort town has credited a blanket ban on mankinis for significantly lowering the prevalence of antisocial behavior and for a boom in the local tourist economy.
Police officers in Newquay, on the south west coast, said their new rules on exhibitionist clothing was helping the town shed its image as a party haven for stag and hen dos and exuberant teens.
As well as clamping down on garments like mankinis – a lurid and revealing bikini-style costume for men – police say they are tackling the high levels of binge drinking in the town.
The new measures come after residents protested against a lack of police action following the death of two teenagers, who fell from the cliffs in separate incidents in 2009.
"When you speak to anybody from patrol officers to PCSOs, partners in town, shopkeepers, everybody says Newquay has made a miraculous improvement. Did Newquay have a problem with its reputation five years ago? Almost certainly it did. Five or six years ago and more, Newquay was a little bit of a Wild West town. It had a bad reputation nationally," Devon and Cornwall police inspector Dave Meredith said.
"People expected to come to Newquay to drink a lot, behave irresponsibly, a lot of really young people came to Newquay and knew they had a good chance of getting drunk. Certainly we have clamped down on that and the image of Newquay now has certainly curtailed some of that."
READ MORE: 'Yoga pants should be illegal in public': Montana legislator fails to ban camel-toe-causing clothes
The latest figures show there has been a reduction in the levels of crime in the town since 2009, which was recognized by the Home Office for its marketing strategy presenting the town as a family-friendly environment.
Local authorities created the Newquay Safe program in 2009. Since the scheme's implementation, reports of anti-social behavior have fallen from 937 in 2009 to 485 in 2013. The crime rate also fell significantly from 1,823 incidents in 2013 to 1,624 in 2014.
"It's not completely the opposite now, but the town has successfully evolved into something which has a broader appeal to it. Families seem to be coming here a lot more, we have a surf culture, and we have still got a great nighttime economy. We welcome and embrace that, but it is far more responsible," Meredith added.
Town Mayor Dave Sleeman, who was initially responsible for organizing the 2009 scheme, said Newquay was "unrecognizable" now from its previous image.
"I remember back in the 2000s you couldn't walk the streets on a Saturday without seeing someone wearing a mankini or what have you. But now they're not allowed in Newquay. The police will tell them to go home and get changed if they see them wearing one, and the guesthouses and campsites are pretty good at warning their guests about what's acceptable. I think we have turned the corner here."