​Last Briton held at Guantanamo Shaker Aamer could be freed next month – lawyer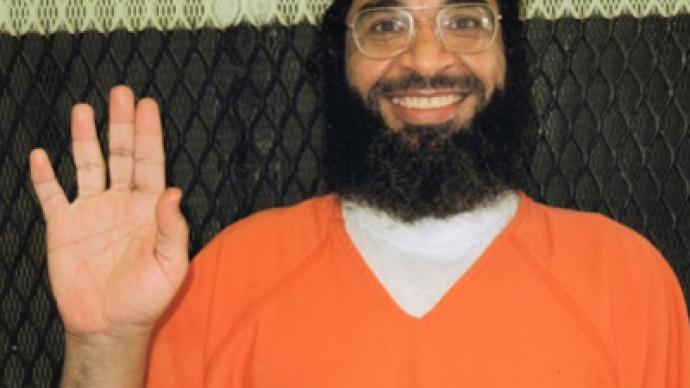 Shaker Aamer, the last British inmate held in the US prison facility at Guantanamo Bay, could be released in June, according to his lawyer.
Aamer, 46, who has been held by the US in Guantanamo Bay Detention Camp since 2002, has twice been cleared for release by Presidents Bush and Obama.
The fact he has remained in prison despite high profile figures in the British government calling for his release has led some to question the strength of the 'special relationship' between the UK and US.
Clive Stafford Smith, a lawyer with legal charity Reprieve, said US government officials had told him Aamer would be released in June.
Aamer has never been charged with a crime or faced trial since he arrived at the high security prison in Cuba.
A group of doctors said he is currently suffering post-traumatic stress disorder (PTSD) and asthma as a result of his imprisonment.
READ MORE: Doctors, campaigners call for British Gitmo detainee's release, amid evidence of torture
READ MORE: 'Don't forget me': Last British Guantanamo detainee issues desperate plea
READ MORE: Special relationship? Cameron's plea for UK Gitmo detainee's release 'not prioritized'
He has also allegedly suffered torture during his 13-year imprisonment, having been beaten on camera at least 315 times during a process called "forcible cell extraction."
Stafford Smith told the BBC's Victoria Derbyshire program: "I have heard from various sources, which are very reliable that he is to be released in June.
"But of course we've had promises before and the worst thing one can do is, both for Shaker and for his wife and children, to promise something that may not happen. But there's no good reason why it wouldn't happen."
Stafford Smith said the primary reason for Aamer's impending release is Obama's pledge to close the detention center.
However, he also credited the people who have campaigned for his release.
"It's also down to the incredibly good work by so many people, like Andrew Mitchell who visited the US with three other MPs.
"I have a letter here with me from Shaker where he's incredibly grateful for that. So many people have done so many great things to help him and I think that's had a great impact."
Four cross-party MPs including former international development secretary, Andrew Mitchell, Jeremy Corbyn, former minister David Davis, and Andy Slaughter met senior officials in Washington earlier this month to negotiate Aamer's release.
Prime Minister David Cameron raised the issue with President Obama on his official visit to the US earlier this year.
Stafford Smith said that given Aamer's case has been raised by the highest levels of British government, "it is incomprehensible that the United States would treat its oldest ally and staunchest friend in this very cavalier way."
The Foreign Office said in a statement: "The US authorities have now prioritized this case for review and we welcome President Obama's continuing commitment to closing the detention facility at Guantanamo Bay."