​'Strategic smokescreen': Family of UK pensioner deny he sold Bin Laden's location to CIA
Published time: 20 May, 2015 16:22
Edited time: 20 May, 2015 16:35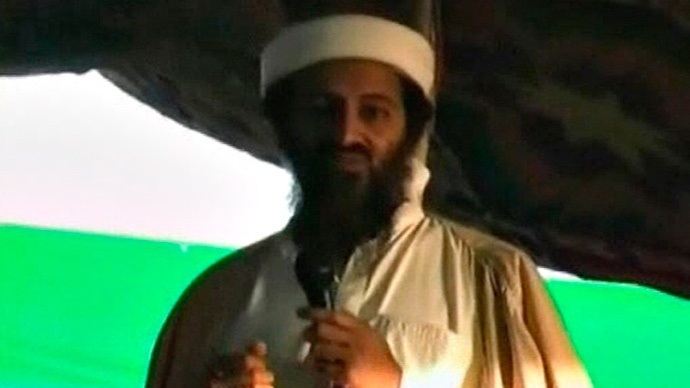 Family members of a London pensioner and former Pakistani army officer accused of selling the secret location of Osama bin Laden to the CIA have flatly denied the allegations.
Usman Khalid, who died last year at age 79, was identified by prominent Pakistani journalist Amir Mir as the spy who tipped off American intelligence services.
However the late brigadier's family have publicly denied the allegation and accused the Pakistani intelligence services of using Khalid as a "smokescreen."
"It simply doesn't make sense," said his son, Abid Khalid. "At the time that this was supposed to have happened, he was suffering from cancer and in and out of hospital."
Mir's allegations follow an article by Pulitzer Prize-winning investigative journalist Seymour Hersh published last week in which he argued that the US government's official story of bin Laden's killing was a "blatant lie."
The White House maintains the operation to find and kill Bin Laden was orchestrated solely by US forces and that the Pakistani army and Pakistan's Inter-Services Intelligence (ISI) unit was unaware of the raid.
READ MORE: US releases trove of documents seized in Bin Laden 2011 raid
READ MORE: Snowden leaks show gaps in official account of bin Laden raid
READ MORE: Down the rabbit hole: Bin Laden raid was staged after extensive Pakistan-US negotiations - report
Writing in Pakistani media outlet The News International last week, Mir alleged that Usman Khalid and his entire family were given American citizenship in return for disclosing Bin Laden's whereabouts.
He cites "well-informed intelligence circles" in the stronghold of garrison town Rawalpindi as his source.
Mir goes on to say that Khalid "persuaded Dr Shakil Afridi, a Pakistani physician, to conduct a fake polio campaign in the Bilal Town area of Abbottabad to help the [CIA] hunt down Osama."
Khalid's family told the Daily Telegraph on Tuesday that the ISI named Usman as a "smokescreen."
"My father had lived here since 1979 so there was no question of him or his family getting American citizenship," said Khalid.
"He had no contact with the CIA and knew nothing about Bin Laden, other than what he read in the newspapers, just like everyone else."
Khalid was an outspoken critic of Pakistani politics after claiming asylum in London 35 years ago.
The ex-brigadier resigned from a 25-year career in the army in protest at the execution of Zulfiqar Ali Bhutto in 1979, the former prime minister and father of Benazir Bhutto who was assassinated in 2007.
Writing in the London Review of Books last week, Hersh sought to debunk the US government's account of the Bin Laden raid.
He said that the official story of Bin Laden's death was an elaborate fiction which boosted Obama's popularity and helped secure his reelection in 2012.
Citing a retired US senior intelligence official, Hersh claimed that Pakistan's ISI agency was aware of Bin Laden's location and was keeping him prisoner as "leverage" against the Taliban and al-Qaida in Afghanistan and Pakistan.
"They let the Taliban and al-Qaida leadership know that if they ran operations that clashed with the interests of the ISI, they would turn Bin Laden over to us. So if it became known that the Pakistanis had worked with us to get Bin Laden at Abbottabad, there would be hell to pay," Hersh quoted an anonymous source as saying.
The retired intelligence official went on to say that the CIA was first told of Bin Laden's location by a senior Pakistani spy who "betrayed the secret in return for much of the $25 million reward offered by the US."