No definitive proof anti-Semitism on the rise in UK, study suggests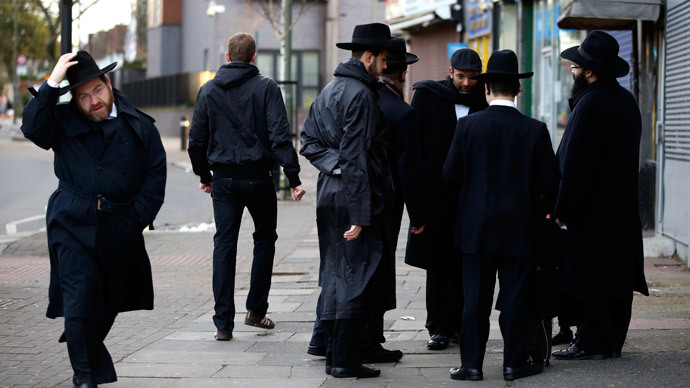 Although anti-Semitic attacks increased in the wake of Israel's Operation Protective Edge against Gaza last summer, it is unclear whether there has been a general increase in anti-Semitism in the UK, according to a new report.
The 'Could It Happen Here?' study, carried out by the Institute for Jewish Policy Research, found that antagonism towards Jews was comparatively low and stable in the UK, even though other sources demonstrate that 2014 broke all known records for the number of anti-Semitic incidents.
READ MORE: Thousands of French Jews flee to Britain despite 'rising UK anti-Semitism'
READ MORE: Anti-Semitic attacks reach record UK high, Israel's Gaza offensive blamed – study
That is despite what the study recognizes was a "spike in anti-Semitic incidents during the war in Gaza in summer 2014, and the Islamist attacks on Jews in Brussels, Paris and Copenhagen."
It goes on to warn against making a definite assessment on the basis of many competing studies and narratives, saying: "As this paper shows, existing data present a complex and multi-faceted picture of reality.
"In spite of the huge amounts of research that has been conducted on anti-Semitism and the issues around it, we remain some way from being able to empirically and unequivocally determine the nature of the problem, its scale, or its direction of travel in ways that cut through all of the hyperbole, bias and conjecture that litter public discourse."
In January, a YouGov poll asked 3,411 UK adults about their attitudes toward Britain's Jewish citizens. It found that 45 percent of those polled believe at least one anti-Semitic view presented to them was "definitely or probably true."
Many thought clichés and stereotypes about Jews to be true. One in four believed Jewish people "chase money more than others," while one in six people felt Jews thought they were better than other people and had too much power in the media.
The Campaign Against Anti-Semitism (CAA), which commissioned the YouGov study, said Britain was at a "tipping point" in its Annual Anti-Semitism Barometer report.
Gideon Falter, chairman of the CAA, said: "The results of our survey are a shocking wake-up call straight after the atrocities in Paris.
"Britain is at a tipping point. Unless anti-Semitism is met with zero tolerance, it will grow and British Jews will increasingly question their place in their own country. Britain's Jews must be shown that they are not alone."
Around 269,000 Jewish people live in the UK – 0.4 percent of the British population – according to CAA.