​Baroness Warsi warns of 'Cold War against British Muslims'
Published time: 15 May, 2015 09:58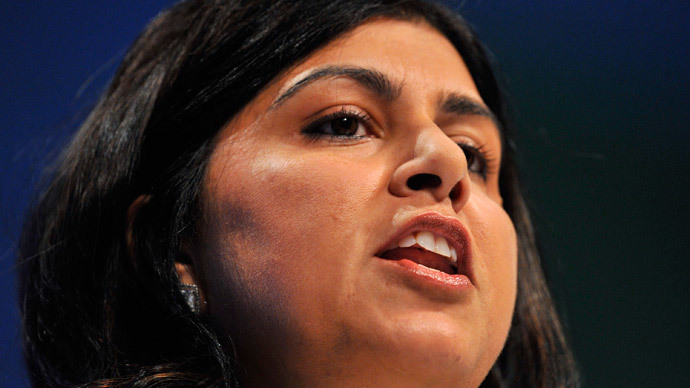 Many in the British Muslim community fear the UK government is waging a 'Cold War' against them under the guise of counter-terrorism and risks increasing radicalization, according to one of the most senior Muslim Conservatives.
Referring to the Tory election victory, Warsi warned in a Guardian op-ed that, rather than Britain entering a new era of cohesion and union, the introduction of "authoritarian counter-terrorism strategies have undermined our values, yet not made us feel any safer."
Referring mainly to new legislation on non-violent extremism, Warsi said that the political "small print" of security and counter terror policy was deeply disturbing.
READ MORE: UK minister resigns over 'morally indefensible' Gaza policy
She also warned against "criminalizing thought."
"We're told that our protection and our freedoms can be secured only by the curtailment of freedom. And the battle of ideas is not fought and won by bigger and better ideas, but by banning, silencing through legislation and securitizing communities."
She said unless extremism was dealt with properly, with political commitment and adequate funding, "we will lose not only a generation of British Muslims but others, too, who will feel neither that they belong in, nor that they have a stake in, a diverse and changing Britain."
She argued that to move forward the government must apply counter-terror legislation evenly and consistently and take into account, among other things, the good and bad parts of British history while grappling with the fact that "British Muslim communities are in a transition phase in defining themselves, and are struggling to get this right."
She delivered a stark warning that for many British Muslims there is an ingrained perception "that successive governments have pursued cold war-style policies against them.
"Neither of these messages makes for easy listening but if we are serious about winning the battle for a more cohesive country, then listen we must."
READ MORE: Anti-terror bill could undermine academic freedom - ex-MI5 chief
Until Warsi quit her job as foreign office minister last year over the UK's handling of the war waged against Gaza by Britain's regional ally Israel, she was the most senior Muslim politician in the country.
She is not the first senior figure to question the efficacy of government terrorism policy.
In January, a former British intelligence chief has warned the government's Counter Terrorism and Security Bill could restrict freedom of speech in universities.
Baroness Manningham-Buller said extremist opinions need to be "exposed, challenged and countered" rather than banned.
Her comments followed a report by the Joint Committee on Human Rights earlier that month, which warned new counter-terrorism laws would "restrict" freedom of speech on university campuses.
At the time, senior academics have called for a campaign against the bill, arguing it could turn university staff into "thought police."