​'Cameron strangling a nurse' mural must be removed, orders council
Published time: 13 May, 2015 16:24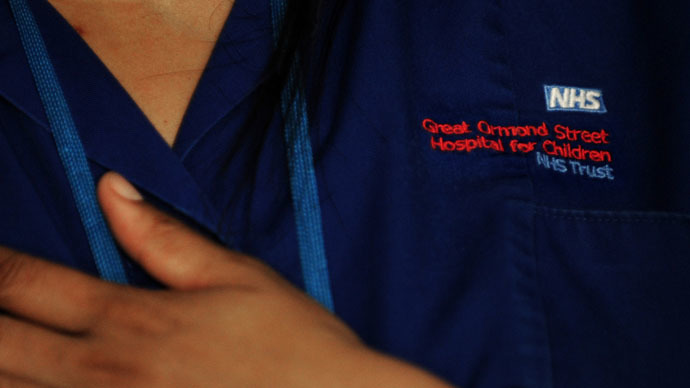 The owner of a 30 foot mural depicting the recently re-elected Tory Prime Minister David Cameron strangling an NHS nurse must remove it or potentially face prosecution.
Tony Davis's mural of David Cameron strangling an #NHS nurse on his house near Bristol @mattcardy@GettyImagesNewspic.twitter.com/kyEvvNlrIg

— David Sim (@davidsim) May 13, 2015
Tony Davis, 73, is a lifelong Labour voter, commissioned the piece by a local street artist on the end of his terraced house.
The artwork includes the caption "Safe in his hands?" and urges people to vote for the Labour Party.
READ MORE: Stealth cuts of £2 billion cripple NHS – report
He received a letter from local authorities telling him to remove it. If he does not, Davis could face a fine of up to £20,000.
Davis told the Daily Mirror: "I've had a notice of prosecution. If you are commercial premises you can advertise anything but if you are a private premises you are restricted to a size of 2ft by 3ft."
He rejects the notice, arguing the rule "applies to hoardings – not something that is painted on the wall like mine is."
"Also my question is, what exactly am I meant to be advertising?"
South Gloucester Council said: "On April 21 it was brought to our enforcement team's attention that a mural had been displayed on the side of Mr Davis' house.
"On assessment, the planning enforcement team considered the mural to be an advertisement without the necessary prior advertisement consent and, as such, a standard letter was sent on April 28, requiring the removal of the advertisement in 14 days.
READ MORE: 'Slow death of the NHS': RT asks what a Tory govt means for the health service
"Whilst the letter does identify that advertisements without the necessary consents are illegal and includes a caution, it is not a formal enforcement notice.
"The letter requests a response from the recipient within seven days to confirm if they believe the advertisement not to be illegal, confirm their intentions to apply for consent, or to confirm removal."
However, Davis is adamant the mural will stay put.
"As far as I'm concerned it's not going anywhere soon," he said.