​Woman labelled 'bad loser' for asking re-elected Tory MP about rising homelessness
Published time: 11 May, 2015 17:03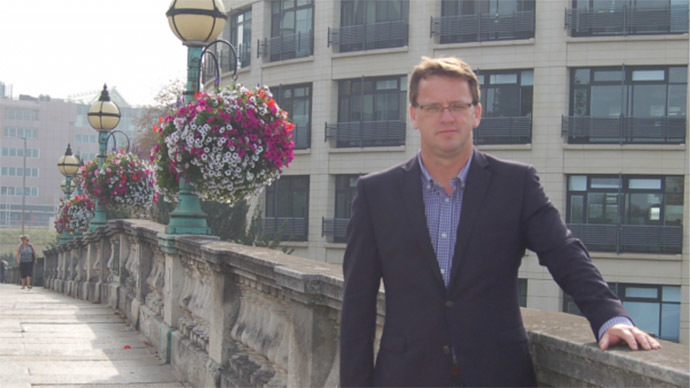 A Conservative MP from Reading already faces calls for his resignation after calling a woman a "bad loser" because she asked about the impact of austerity on homelessness.
Less a day after being re-elected as MP for Reading East, Rob Wilson became the subject of an online petition calling for his resignation on the grounds of having committed "gross misconduct."
As of Monday afternoon, 3,950 people had signed the petition on 38 Degrees, which was created by Jayne Wattie.
The petition web page reads: "Rob Wilson is an elected representative of the British people, paid out of the public purse.
@ellbphotography don't be a bad loser.

— Rob Wilson (@RobWilson_RDG) May 8, 2015
"As such he has a duty to take seriously all questions set to him by members of the public and to conduct himself in a civil and respectful manner towards his constituents."
Photographer Lynda Bowyer messaged Wilson on Twitter about the 700 percent rise in homelessness in Reading over the past five years of coalition rule.
"Wonder what the #Conservative cuts will do to address this @RobWilson_RDG?" she asked.
@rocknroller_ste shocking response from @RobWilson_RDG. He's here to represent all in his constituency. Obviously sees it as a game.

— Andy (@welshandy) May 9, 2015
The newly elected MP tweeted back: "don't be a bad loser."
Twitter users jumped to Bowyer's defense, lambasting Wilson for "being rude" instead of answering his constituent's questions.
Wilson has since tweeted Bowyer saying he has sent a full response by email.
READ MORE: UK inaction on housing crisis breaches human rights, say charities
In response to the allegations, Wilson said: "I think people in Reading East know that I have worked hard to help homeless people in Reading. I have previously run a campaign lobbying Reading Borough Council for a night shelter and been in regular contact with homelessness charities in Reading, such as Launchpad and the Salvation Army."
"I have always listened to their concerns and sought to support them in the vital work they do.
"I have known Lynda Bowyer for a number of years as an activist journalist ... It was in her capacity as a journalist that I responded to her tweet. I continue to address her concerns as a constituent by email.
"I will continue to take up the issue of homelessness with Reading Borough Council, as I have done on various occasions over the last 10 years."