Revealed: Extent of British anti-ISIS airstrikes
Published time: 11 May, 2015 16:18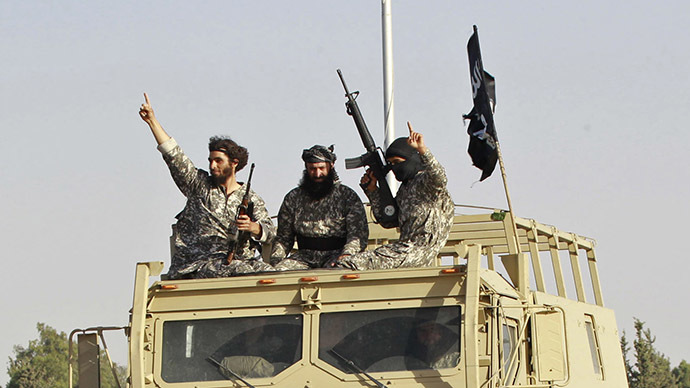 The UK has dropped more than 200 bombs on Islamic State targets using fighter jets and drones since airstrikes began in September 2014, analysis for the Guardian newspaper has revealed.
The analysis found the British military had dropped at least 87 Paveway IV bombs and 47 Brimstone missiles in military operations which have largely not made the headlines.
Tornado GR4 jets and Reaper drones have attacked 20 buildings, two containers and 65 trucks, as well as targeting groups of individuals identified as "terrorists" by the Ministry of Defence (MoD) in at least 90 attacks.
The Reaper drones are the MOD's newest piece of kit. The remotely piloted aircraft are controlled via satellite from RAF Waddington in Lincolnshire. They were first used by British forces against the Islamic State in 2014.
The analysis further revealed that the cost of the British anti-ISIS operation has so far totaled at least £13 million, but suggested that the real cost is much higher, as it did not factor is fueling and maintenance, surveillance aircraft or transport planes.
READ MORE: Pentagon boosts alert level at military bases following ISIS threats
The missiles used by the aircraft come at a hefty price. Brimstone missiles are estimated to cost £100,000 each, Paveway IV bombs £30,000 apiece, and Hellfire missiles £71,300 each.
The House of Commons passed a motion in September to target the Islamist group, which currently hold swathes of northern Iraq and Syria, with airstrikes. The motion, however, specifically stated that strikes would not include Syria given the political instability and ongoing civil war.
The UK's operations in Iraq are dwarfed by the American effort, which the Guardian reported had launched airstrikes on over 6,000 Islamic State targets, including 2,000 buildings, 3,000 US Humvees and 80 tanks in both Iraq and Syria.
The UK parliament voted against putting boots on the ground in the country, and instead the government opted to send a team of infantry soldiers to northern Iraq to train the Kurdish Peshmerga fighters who have been battling extremists since summer 2014.
The MoD has insisted it "will not deploy UK troops in ground combat operations."
However, British Special Forces, as well as trainers, are believed to be on the ground in northern Iraq and possibly in Syria as well. One of their roles in Iraq is to identify targets for RAF aircraft.