​1mn Facebook users click 'I'm a Voter' button in UK election
Published time: 7 May, 2015 17:08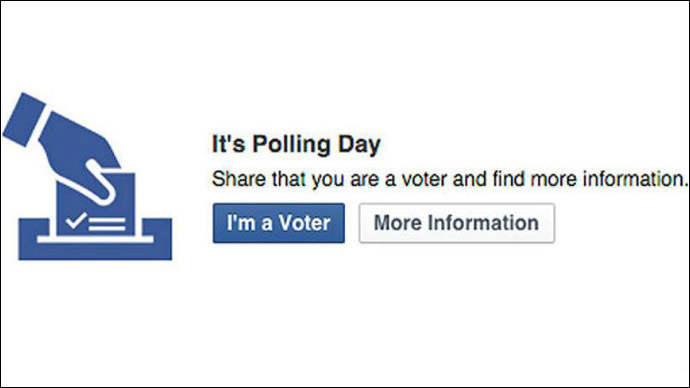 More than 1 million people have already clicked Facebook's voter button to tell the world they have cast their ballot in the UK General Election.
READ MORE: UK General Election 2015 LIVE UPDATES
Facebook revealed Wednesday it would feature a 'I'm a Voter' button for the first time in a UK General Election. On Election Day, more than 1.2 million users of the social network have already used it.
There are 35 million Facebook users in the UK. Users who hit the button can also share which party they voted for. It is hoped the feature will encourage others to log off and head for the polling booths.
A study by the science journal Nature in 2012 found that 300,000 people went to the polls in the US because they saw on Facebook that their friends had voted.
Facebook, which has more than 1.4 billion monthly active users globally, revealed that the most discussed election issue is the economy, followed by Europe and immigration.
The tool has been used in three US presidential elections as well as several European elections and the Scottish independence referendum last year.
Just last month Facebook started rolling out a voting reminder notification at the top of UK newsfeeds, encouraging people to take part.
When the tool was used in the Indian election last year it reached 31 million people, with more than 4 million users sharing the fact they had voted, Facebook said.