Phew - what a racist! Media watchdog slammed after exonerating Katie Hopkins' migrant slurs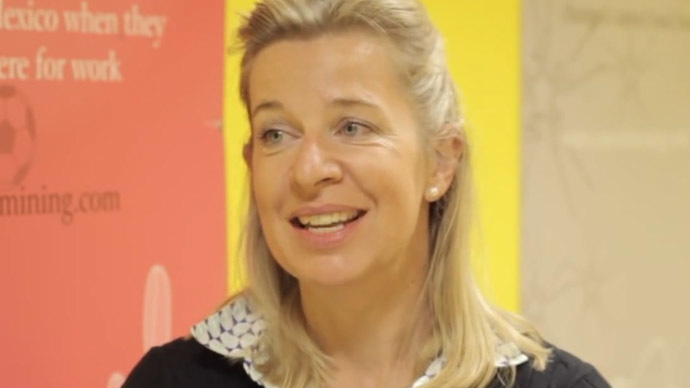 Britain's press regulator has rejected more than 400 complaints made against controversial Sun columnist Katie Hopkins after she described African migrants as "cockroaches."
The recently formed Independent Press Standards Organisation (IPSO) acknowledged that the article caused offense, which was published days after 400 people died when a migrant boat capsized in the Mediterranean Sea last month.
However IPSO said its Editor's Code does not address issues of "taste and offence" and could only refer two complaints which raised points of accuracy with the Murdoch-owned Sun newspaper.
The National Union of Journalists (NUJ) has condemned the regulator's decision, saying it has "thrown further doubt on its own legitimacy."
IPSO received more than 400 complaints concerning Katie Hopkins' article in The Sun, in which she claimed she would "use gunships to stop migrants."
Most complaints covered Clause 12 of the Editor's Code, which focuses on discrimination.
The regulator dismissed these complaints on the basis Hopkins did not mention individuals, but rather a group of people.
"The concerns raised by the complainants that the article discriminated against migrants in general did not therefore raise a possible breach of Clause 12," the IPSO said.
Well well, Ipso, the big press corporations' new self-regulation system, *rejects* complaints about Katie Hopkins' migrants column.

— Super Haggerty (@AngelaHaggerty) May 6, 2015
Other objections covered Clause 1, which relates to accuracy of reporting. Complainants argued Hopkins' descriptions of migrants as "vagrants" and British towns with large immigrant populations as "festering sores" were inaccurate.
IPSO dismissed this complaint, stating that Hopkins' comments were "not claims of fact and would not significantly mislead readers."
The regulator also rejected complaints which covered Clause 5 (intrusion into grief or shock) on the basis that IPSO requires a complaint to come from those involved in the tragedy or their representatives.
The NUJ said it was "dismayed" at IPSO's ruling, arguing the regulator should "accept third party complaints."
Chris Frost, chair of the NUJ's ethical council, said: "Vicious, racist and inflammatory articles impact on all of us."
"Katie Hopkins and The Sun should be held responsible for whipping up xenophobia and hostility. Such language must be considered a breach of ethical codes."
Hopkins' column caused outrage after the businesswoman-turned-media personality said she was indifferent to the fate of migrants crossing the Mediterranean Sea to Europe.
READ MORE: 'Viscous, xenophobic & racist' hate speech case against Katie Hopkins referred to ICC
"NO, I don't care. Show me pictures of coffins, show me bodies floating in water, play violins and show me skinny people looking sad," she wrote.
"Make no mistake, these migrants are like cockroaches. They might look a bit 'Bob Geldof's Ethiopia circa 1984,' but they are built to survive a nuclear bomb. They are survivors."
"Once gunships have driven them back to their shores, boats need to be confiscated and burned on a huge bonfire," she wrote.
More than 300,000 people have signed an online petition calling for The Sun to sack Hopkins in light of the comments.
Her column was even condemned by the United Nations High Commissioner for Human Rights, who said her language resembled pro-genocide propaganda.
Jordanian Zeid Ra'ad Al Hussein issued a strongly worded statement which said British tabloid "misinformation" about immigration was fuelling a "nasty underbelly of racism."
READ MORE: Migrant lives matter! Protesters target European Commission after 800 drowned
He said that Hopkins' column used "language very similar to that employed by Rwanda's Kangura newspaper and Radio Mille Collines during the run up to the 1994 genocide."
He added the media in Nazi Germany also "described people their masters wanted to eliminate as rats and cockroaches."
A British law society has referred Hopkins' comments to the International Criminal Court (ICC) on the grounds it incites racial hatred.
Shireen Khan, a member of the Society of Black Lawyers, told RT: "I believe that the ICC will take up this case fully as they have a duty to investigate such matters especially the seriousness of this case, which is further emphasized by the UN High Commissioner for Human Rights' endorsement of our report."
"Immigrants do not deserve to be the scapegoat of this country's problems and it's about time we stopped making them it," she added.
You can share this story on social media: