Tony Blair acts as character witness for Ehud Olmert in corruption trial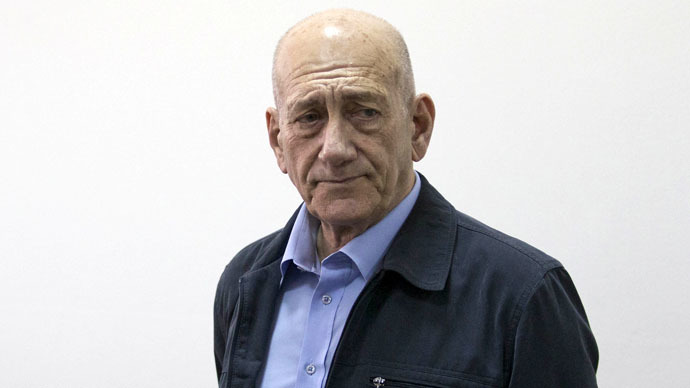 Former British Prime Minister Tony Blair came to the defense of Ehud Olmert as a character witness in the corruption trial against the former Israeli premier in the country's Supreme Court.
In a retrial in March, Olmert was convicted of receiving $600,000 (£400,000) in cash-stuffed envelopes between 1993 and 2002 from an American businessman, Morris Talansky. The prosecution asked for a prison sentence of between eight and 18 months.
המכתב של טוני בלייר לשופטים pic.twitter.com/DxmGtAOEs1

— Revital Hovel (@RevitalHovel) May 5, 2015
Olmert's defense team brought forward character witnesses, including Blair and security officials such as ex-Mossad chief Meir Dagan.
READ MORE: 'Palestinians couldn't stand him': Tony Blair may quit as MidEast peace envoy
READ MORE: 'Super-rich, me? Absolutely not': Tony Blair says just lucky, despite lucrative business, property empire
In a letter to the court, Blair writes that Olmert's "efforts to bring peace" in the Middle East should be "admired."
He adds, their relationship went "beyond that between heads of government" and was "based on friendship and trust with a clear understanding of the needs and sensitivities of the other side."
In his letter, Dagan wrote that "Olmert was an exceptional prime minister" who "made many courageous decisions ... which contributed and continue to contribute to the state's security."
Olmert pleaded with the judges: "What do I say to my grandchild" who "hears bad things about me from his friends."
"The real punishment is the shame," Olmert said.
The court will announce its sentence in three weeks.
Olmert already faces another six-year prison sentence in a separate bribery case for accepting payoffs linked to a massive real-estate development in Jerusalem when he was mayor of the city.
You can share this story on social media: