​'Tasering a sheep is wicked and ridiculous': Police have shot 101 animals since 2012
Published time: 30 Apr, 2015 14:47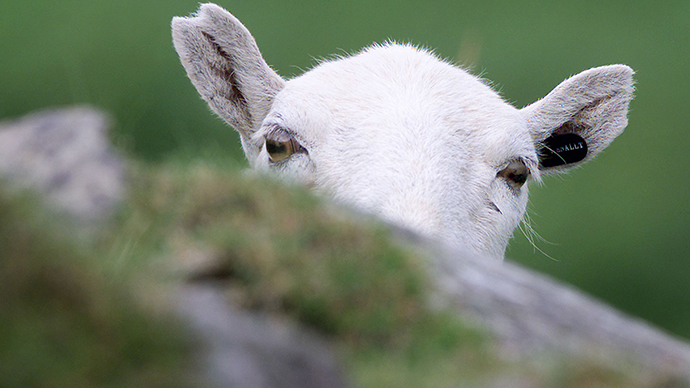 Dogs, foxes, two bulls and an uncooperative north Devon sheep have all been tasered by British police since 2012, with at least 101 animals being blasted by the 50,000 volt electroshock weapons.
The figures emerged through a Freedom of Information (FoI) request by the Times.
Most incident involved dogs, many of which were considered to be dangerous breeds such as pit bulls and Staffordshire bull terriers.
READ MORE: Dogs really do love us: Study finds first evidence of inter-species hormone exchange
One dog was tasered while aggressively defending its owner who was unconscious at the time.
Animal welfare groups have responded to the figures with outrage.
Andrew Tyler, a spokesman for the charity Animal Aid told the Express: "It is clear from these figures that animals represent no threat to people, that are cornered and afraid, are being visited by terrible, unnecessary violence.
"Instead of taking a measured, intelligent approach, police officers are resorting to violence because they are panicked, or to get the animal out of the way quickly. They need to be properly trained by animal handlers, so they can better understand animals' psychology and pacify them effectively.
READ MORE: 'Disturbingly inventive': Animal abuse reaching abhorrent new lows
"To bring a sheep down with a taser is incredibly wicked and ridiculous."
The ram in question escaped its field in Okehampton, north Devon, in 2012, making its way onto the A30 motorway.
Police called to the scene decided the sheep was a danger to motorists and shot it with a taser.
A similar event occurred on the A55 in North Wales in 2008. Witnesses objected in the strongest terms.
One motorist told the Daily Mail that after the traffic had slowed and the police arrived "one of the officers got out his Taser gun and fired it at the sheep. Then he carried it to the side of the carriageway.
"I don't know if the sheep was alright. When we left, it was lying by the side of the road, shaking."