Briton aboard Maersk Tigris cargo ship seized by Iran, FO confirms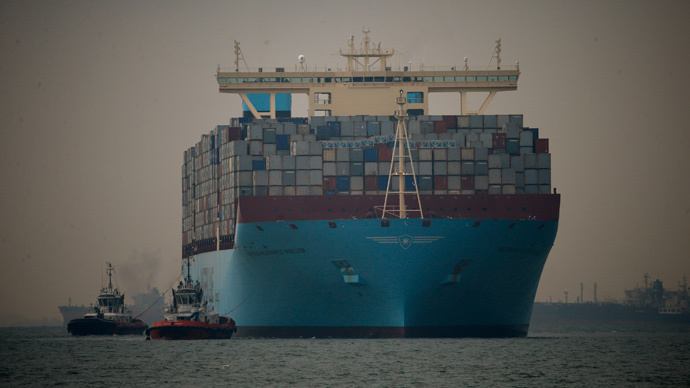 A British man is among the crew of a ship seized by Iranian forces, the Foreign Office has confirmed. The Briton is one of 24 crew members on board the MV Maersk Tigris.
As the cargo ship passed through the Strait of Hormuz in the Persian Gulf on Tuesday, Iranian forces fired on the vessel before boarding.
A Foreign Office statement said: "We believe that a British National is among those on board the Maersk Tigris and we are urgently working to establish all the facts. We stand ready to provide consular assistance."
The Pentagon said in a statement: "The IRGCN [Islamic Revolutionary Guard Corps Navy] contacted the vessel and directed the Maersk Tigris' master to divert further into Iranian Waters. The master initially declined and one of the IRGCN patrol craft fired shots across the Maersk Tigris' bow. The master then complied and diverted under escort by the IRGCN vessels."
In response, the US Navy then sent the destroyer USS Farragut along with three coastal patrol ships to the Strait of Hormuz.
READ MORE: Pentagon: Iran seizes Marshall Islands-flagged ship, US destroyer on standby
Tracking imagery indicates the seized ship is currently anchored off the Iranian port of Bandar Abbas. The ship is flagged under the Marshall Islands, which became independent from the US in 1986, but still receive its protection. Maersk reportedly said the crew consisted of Asian and Eastern European citizens.
A spokesman for the Danish shipping company Maersk said the "crew is safe and under the circumstances in good spirits."
However, they said they still don't know why the ship was seized. The statement added: "We are continuing our efforts to obtain more information about the Iranian authorities' seizure – in international waters – of Maersk Tigris. We are not able at this point to establish or confirm the reason behind the seizure."
The Pentagon has said Iran's actions were "inappropriate" and that the ship was in "an internationally recognized maritime route."
The waterway is of strategic importance as around 30 percent of the world's oil is shipped through it.
You can share this story on social media: