​'Sexist, offensive' weight loss ads spark London protest
Published time: 28 Apr, 2015 12:59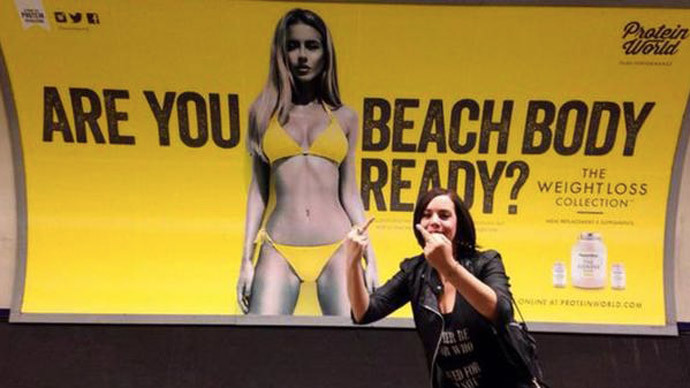 Londoners angered by "offensive" billboards that feature a bikini-clad model posing against the caption "are you beach body ready?" will assemble in Hyde Park on Saturday in an effort to challenge sexist norms promoted by the advert.
The billboards, which have sparked a firestorm of criticism since their unveiling, grace the walls of much of London's underground network. They promote weight loss supplements produced by Protein World, and are on view to commuters, the elderly, and small children day in day out.
Campaigners set to attend Saturday's protest argue the concept of a "beach body" is relative and should not be confined to hypersexualized, scantily clad women in swimwear.
They also caution Protein World's adverts are irresponsible and could heighten body image anxieties harbored by many women.
Saying no to #BodyShaming. Our favourite responses to the 'Beach Body Ready' ads http://t.co/tOYx4j0vkfpic.twitter.com/d42NU2F980

— Stylist Magazine (@StylistMagazine) April 28, 2015
Set to kick off at 3pm in London's Hyde Park, the demonstration will feature a feast of visual spectacles that directly challenge unhealthy and sexist norms depicted in the advert.
People have been encouraged to attend the protest in whatever "beach body" state they please, with their buckets, spades and beach balls in tow.
Since the advert was released, over 44,000 people have signed an online petition for the billboards to be taken down from London's underground stations.
The petition, launched on Change.org, argues the concept of a "beach body" is nuanced and diverse, and should not be confined to slender women in string bikinis.
Protein World's offending adverts have also sparked a flurry of formal complaints directed at Britain's Advertising Standards Authority (ASA).
Speaking on Monday, an ASA spokesperson said it received 216 complaints about the advertising campaign and the general consensus had been that the billboards are "offensive, irresponsible and harmful because it promotes an unhealthy body image."
The ASA has not yet launched an investigation into the advert but says it is "carefully assessing" incoming complaints to discern whether there are "grounds for further action."
So happy to see people getting their own back at this blatant fail at advertising to women. #eachbodysreadyhttp://t.co/OGEJtGDnCz

— Ash Adair (@AshAdair) April 28, 2015
Critics of the billboards have also vented their anger online. Some have shared doctored images of the ad highlighting its sexist nature, while others have taken a more direct approach by defacing the posters.
Speaking to Channel 4 on Monday, Protein World's CEO described the billboard vandals as "terrorists." He said the adverts were "aspirational," and the firm would only note opposition to them if the petition gathered 1,000,000 signatures.
PhD candidate at Kings College London, Miranda Fay, hit back at the weight loss firm.
A self-confessed vandal of these billboards, Fay said the comparison to terrorists was "an appalling insult to the victims of genuine terrorism."
Reality star-turned-columnist and provocateur Katy Hopkins also weighed into the Protein World debate.
Hopkins, who is loved and hated for her outlandish commentary, defended the billboards in a series of Tweets.
The columnist said society is quick to "cheerlead chubsters," while those "with self-control" who eat in moderation are shamed. "Society has huge acceptance for being fat, but masses of abuse for being skinny," she added.
Protein World has defended the billboards and the products it advertises. Addressing consumers and critics alike, a spokesperson for the firm said the company is "here to motivate, not commiserate."
The company welcomed Hopkins' commentary on the issue, saying it is "great" to have a person with such a vibrant online following enter into the debate.
Saw this on the tube yesterday. Are you beach body ready? Or a terrorist? #eachbodysreadyhttp://t.co/DoEmtq9mLlpic.twitter.com/25EkRWtjo2

— Paul Brown (@pbsportswriter) April 28, 2015
Protein World bills itself as a vanguard of "the protein revolution." The firm's weight-loss supplements supposedly raise people's metabolism and burn fat fast.
On its website, the company claims to offer consumers "a new and innovative range of pure, GMO-free supplements to help you become healthier, leaner, fitter and stronger."
Protein World's aggressive marketing tactics were previously the focus of an ASA investigation.
Among the ASA's chief concerns were whether Protein World's health and nutrition claims were authorized by the EU, and whether the firm's promotional 'before and after' pictures depicting dramatic weight loss were accurate.
The ASA's ruling said Protein World must not "make health claims for foods if they were not listed as authorized in the EU Register."
It also demanded the company ensure their sales promotions conform to requirements laid out under British law.
The organizers of Saturday's rally said they support people's health and fitness efforts. They cautioned, however, that a slender body type should not be an "expectation."
"The idea that your body should be covered up and hidden away if it doesn't meet these bizarrely specific requirements … I'm over it," one of the rally's organizers said in an online statement.
Speaking to RT on Tuesday, a spokesman for Transport for London (TfL) said the billboards will be removed from London's underground stations on Wednesday.
The spokesman said the decision to take down the ads was not motivated by their content, but rather occurred because the advertising contract Protein World had paid for had run out.