​Having nun of it: Growing numbers of British women take up habit
Published time: 23 Apr, 2015 15:43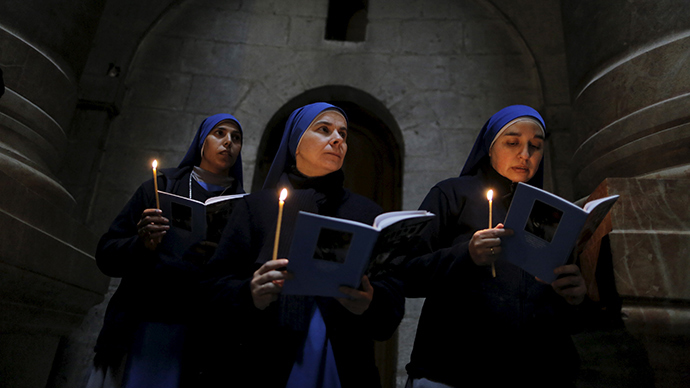 The number of women becoming nuns has trebled in the last five years as more and more opt for a religious lifestyle.
Last year 45 women became nuns, compared to just 7 in 2004. The Catholic Church said that of these, 14 were 30 years old or younger.
"In a really obvious sense, the women feel a religious calling to do so. On a more sociological level, these are women who have lived in the world and who find themselves in their late 20s, 30s or 40s making a conscious and hard choice to enter religious life," lecturer in Catholic Studies at Durham University Anna Rowlands told the Guardian.
READ MORE: Losing faith: Atheism rising in Britain, poll suggests
"These days we live fairly transient lives, many people end up single and living between communities. Often the religious orders these women are joining are connected with serving the needs of the poor."
Novice nun Theodora Hawksley, 29, left her academic studies to join a religious order, telling the paper, "I was drawn to it by wanting a greater freedom in being able to give myself to God and the world.
"I don't have to worry now about practical things like making a career for myself. I'm free to go where I'm needed and meet people at the margins."
She also said the idea of being stuck in a religious habit forever was wrong and that her order tended to dress down – even wearing jeans and T-shirts.
"Unless you really knew what you were looking for, you wouldn't know it was a nun," she said.
The rise in popularity of nunnery contrasts with the findings of recent studies which indicate the UK is becoming less religious.
READ MORE: Godless Britain? UK 6th from last in global belief poll
Earlier this month Win/Gallup International polling suggested more than 50 percent of Britons do not believe in any religion, 13 percent were committed atheists and the rest were unsure how to define their beliefs.
Only 30 percent said they were religious.
Despite religious belief taking a knock in some countries, the study found that far from being on the wane, there are nearly twice as many believers as non-believers in the nations surveyed.
"Religion continues to dominate our everyday lives and we see that the total number of people who consider themselves to be religious is actually relatively high," Win/Gallup International President Jean-Marc Leger told the Guardian.