​No whites, no men: 'Equality' protest accused of racism & sexism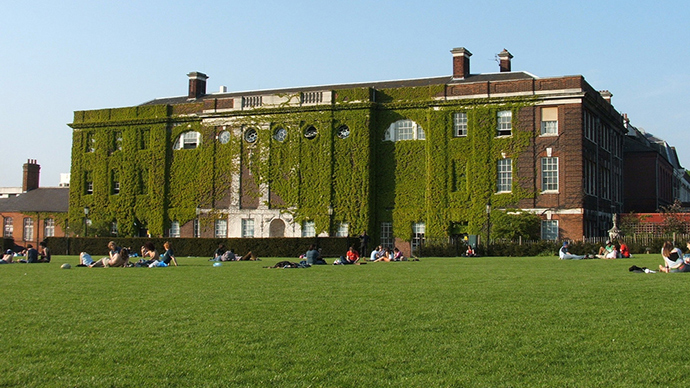 A group of students at Goldsmiths University in London has been accused of organizing a racist and sexist event after banning whites and men from their 'equality' rally.
The event, which took place on Wednesday and was organized by the students' union Welfare and Diversity chair Bahar Mustafa, was branded divisive after students of non-BAME (Black, Asian, Minority Ethnic) background were told not to attend.
Mustafa, who is a representative of the student union, wrote on the event's Facebook page: "If you've been invited and you're a man and/or white PLEASE DON'T COME."
The event was aimed at "challenging the white-centric culture of occupations," as well as "diversifying our curriculum" and building a "cross-campus campaign that puts liberation at the heart of the movement."
Students attacked the union for the ban.
@GoldsmithsUoL If you don't resign Bahar Mustafa @GSU_Welfare from her position, I will file a complaint with your local police

— Matt H (@mathinuk) April 23, 2015
"For Bahar to have the nerve to write this is patronizing beyond belief," said one society president.
"She (if that is her preferred gender pronoun) has made it very difficult for white CIS males on campus who feel like they can't say anything for fear of retribution," they said.
A Diversity officer....and the modern face of Racism. Maybe UKIP should sign her up.... #Baharmustafapic.twitter.com/Z9xQ2TmXuX

— Rob g (@shearersbuddy) April 23, 2015
"The irony that she thinks that they are diversifying the student community in the name of feminism and multiculturalism is laughable," they added.
This event comes after a previous BME-only film screening triggered a backlash in the national press.
Bahar Mustafa gets hounded off here. Then will come the wounded article from her. No-one will learn a thing. #twittercycle#familiar

— The Nick Parton (@FineExcuses) April 23, 2015
The screening, which also involved Mustafa, was of a film called 'Dear White People' and was accused of creating a "racially segregated space" in the university.