Collie-sion course: Sheepdog crashes tractor on motorway after breaking farm fence
Published time: 23 Apr, 2015 07:08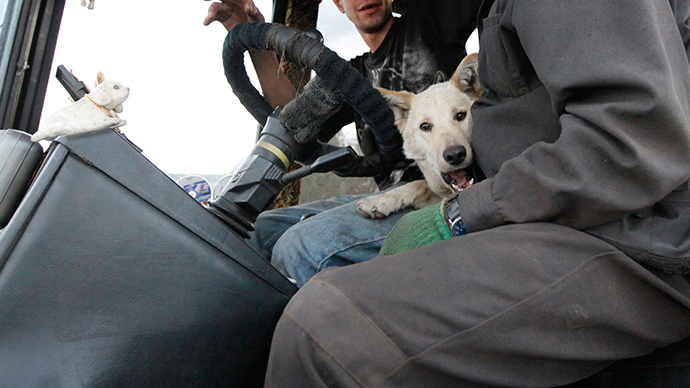 A sheepdog has crashed a tractor in a busy motorway in Abington, South Lanarkshire, UK, during Wednesday rush hour after leaning on the control panel.
Four-and-a-half-year-old Don the collie jumped on to the vehicle as its owner farmer Tom Hamilton, 77, was busy with a lamb in a field next to the M74.
The dog leaned on the controls, setting the vehicle in motion. The tractor broke through the farm fence, drove across the highway and ground to a halt upon hitting the median strip.
Update via @STVKaren Scene of the crash on M74 where a dog drove a tractor onto the motorway http://t.co/D3Hb9MD8NMpic.twitter.com/De5q4LnhEt

— STV News (@STVNews) April 22, 2015
"I was out in the mini tractor and had stepped out of it to get a lamb which looked like it was about to get out of the gate. I had not put the brake on the tractor and when I turned round I got a fright as the vehicle was careering down the hill, through a gate and on to the M74," Tom Hamilton, who has run the farm for more than 50 years, said.
He also added that "Don was fine and did not bark during the incident."
In the doghouse: Don the Sheepdog who crashed his farmer's tractor on to the M74 motorway http://t.co/HYmuJFmTA7 . pic.twitter.com/Fvb1ATujwu

— STV News (@STVNews) April 22, 2015
A Traffic Scotland spokesman said "The dog accidentally leaned on the controls and the vehicle made its way out of the field and on to the M74. Nobody is believed to have been injured."
#M74 (N) J13-RTC due to dog taking control of tractor... nope, not joking. Farmer&police at scene,vehicle in central res. #maycausetailbacks

— Traffic Scotland (@trafficscotland) April 22, 2015