​Co-op unable to commit to Fairtrade goods, blames economy
Published time: 20 Apr, 2015 15:46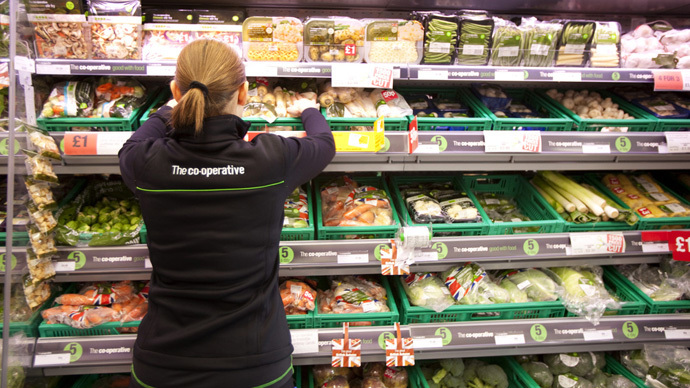 A British supermarket and co-operative group famed for its commitment to Fairtrade has told its members it will be unable to continue its pledge to stock the products because fierce supermarket competition makes it economically unviable.
In a motion tabled for the upcoming annual general meeting, the group claimed its continued support of Fairtrade products would be compromised due to "austere" financial conditions, saying it would be unable to enhance their current commitment.
"The Group Board supports the general principles of this Motion in terms of leading the way on Fairtrade," the motion reads.
"However, it should be recognized that some of the specific points highlighted in the Motion cannot be supported due to the current financial position of the Group, the austere market climate we continue to face and the strategic direction of the business into convenience shops, which naturally increases pressure on space and range," it adds.
The Co-op now operates a one-member-one-vote system after the banking scandal of 2013 triggered a dramatic overhaul of its voting system, meaning 2.5 million members will be eligible to vote on the motion at the AGM.
The motion states the AGM will "seek to reframe" its "long term leadership position" of being the UK's largest convenience retailer of Fairtrade goods.
READ MORE: Prices wars & poor ethics: UK supermarkets sourcing salad, veg from 'modern day slaves'
"The new Fairtrade policy will look to fundamentally shift Fairtrade from strategic ambition to 'Business as Usual' (BAU) policy and responsibility for delivery assumed across all functions including, buying, ranging, marketing and product development."
Fairtrade provided a statement in support of the motion, saying the group was "delighted" to acknowledge the "ongoing ambitions" of the Co-op in spite of current economic difficulties.
Commercial Director Euan Venters said: "As one of our longest standing and most valued commercial partners, we thank the Co-operative's management team for its ongoing commitment to Fairtrade and we also express our gratitude to the active Co-operative members, whose tireless campaigning has been instrumental in driving local and regional awareness and fuelling demand for product."
"We look forward to taking the next steps towards supporting Fairtrade communities together, through the principles outlined in The Co-operative's draft new Fairtrade Policy," he added.
The Co-operative is still facing the repercussions of the 2013 banking scandal, which saw its director Paul Flowers' drug habit revealed, and exposed a £1.5-billion hole in its finances.
The current management overhaul has seen Allan Leighton take control as chairman of the board, but a Co-op activist is currently tabling a vote of no confidence in Leighton, the first since the directorial restructuring.