4 family members arrested at Manchester Airport, suspected of terror offences
Published time: 15 Apr, 2015 10:32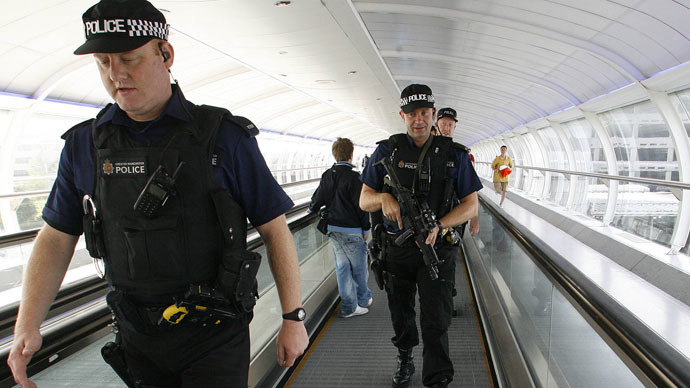 Four people from the same family were arrested at Manchester Airport on Wednesday on suspicion of terror offences, after Turkish authorities stopped a group crossing the Syrian border earlier this month.
The youngest family member is 22, while the oldest is 47.
The arrests come a day after 21-year-old Waheed Ahmed was placed in police custody at Birmingham Airport on Tuesday, as well as a 31-year-old man in Rochdale, near Manchester.
All six were arrested under the Terrorism Act and remain in police custody for questioning.
The investigation was launched after nine people – five adults and four children – were detained by Turkish authorities while attempting to cross into Syria last month, with the suspected intent of joining Islamic State jihadists.
READ MORE: Labour councilor's son accused of trying to join ISIS 'flown back to UK'
Turkey deported the nine Britons, including Waheed Ahmed, the son of a UK Labour Party councilor from Rochdale.
Officers are working to establish their reasons for travel and alleged attempt to enter Syria, Greater Manchester Police said.
In a statement, Ahmed's father, Councillor Shakil Ahmed, said: "My son is a good Muslim and his loyalties belong to Britain, so I don't understand what he's doing there.
"If I thought for a second that he was in danger of being radicalized, I would have reported him to the authorities," he said.
"He's studying a degree in politics and sociology at Manchester University and has a good future ahead of him."