​Focus E15 housing activist arrested on suspicion of 'squatting'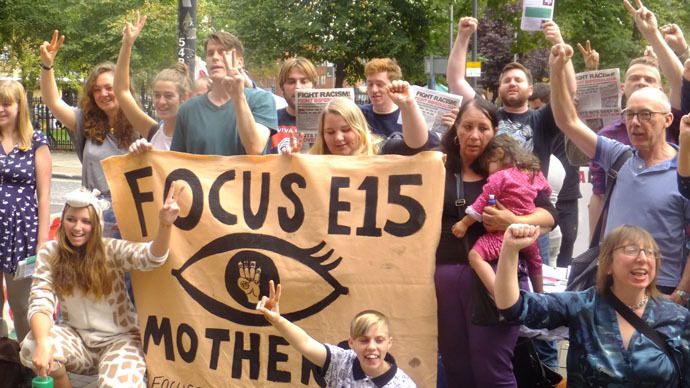 A London housing activist and key figure in the Focus E15 campaign has been arrested by police on suspicion of squatting after occupying a council flat in protest at the eviction of its tenants last month.
Jasmin Stone, 20, was released on bail after officers from Scotland Yard and Newham Council raided the two-bedroom flat in Kerrison Road, Stratford.
Stone is one of the leaders of Focus E15, a prominent housing campaign group started by young mothers after they were served eviction notices in September 2013.
The activists are protesting against the eviction of Jane Wood, 45, and her 14-year-old daughter last month.
Wood, who has suffered from mental health problems, lost her eligibility for benefits following a review.
A spokesman for Scotland Yard said: "A 20-year-old woman was arrested on Monday 13 April at an address on Kerrison Road, E15, on suspicion of squatting in a residential building.
READ MORE: Homelessness in London soars by 79% since 2010 – report
"She was taken to an East London police station and has been bailed pending further inquiries to a date in mid-May. Enquiries continue."
According to Focus E15, the occupation of Wood's flat began on Saturday.
The organization posted on its Facebook page on Monday: "URGENT Jasmin Stone has been arrested whilst defending Jane's house as she went to a council meeting.
"A group are heading to Leyton police station now to support. Alternatively please call Leyton police station in support of Jasmin!!"
The group reports Stone was held at Waltham Forest borough-based Custody Centre in Boreham Close before being released on police bail.
Many of Focus E15's members are single mothers who became politically active after they were threatened with eviction from a homeless shelter in Newham, East London.
Morning! What a beautiful day. We will not be silenced by @NewhamLondon Labour council who used police force to intimidate us. Stay tuned Xx

— FocusE15 (@FocusE15) April 14, 2015
It made national headlines last October when it took over a group of homes scheduled for demolition.
Online magazine the Londonist visited the Newham council flats due to be demolished and reported that contrary to the government's descriptions they were in a good, habitable condition.
"Despite Newham Council describing the estate as falling into disrepair and earmarking these buildings for bulldozing, we were astonished to find how well appointed and equipped they are, despite being shut up for between four and eight years."
The magazine went on to say the flats would make a "decent home" for anyone.
READ MORE: 'Austerity regime squeezing hard': Councils attacked for aggressive debt collection
Eileen Short, of Defend Council Housing, told RT it was wrong to arrest Jasmin Stone.
"With 5 million people on housing waiting lists, evictions and overcrowding at record levels and housing costing more than ever before, it's the people driving our housing policy that should be locked up!" said Short.
"We can ensure homes for all who need them by investing in a new generation of energy efficient council homes.
"Instead our politicians are letting developers sell off and knock down our estates, and make a fortune out of turning us all into private renters."
Short said as the housing crisis mounts, the movement is turning to the mass rent strikes, occupations and protests of earlier generations who fought for council housing.
"Jasmin is part of a new housing movement, inspiring resistance and action across Britain. They can't lock us all up!" she added.
You can share this story on social media: