​Dozens of arrests as anti-nuclear protesters demand end to UK's Trident sub program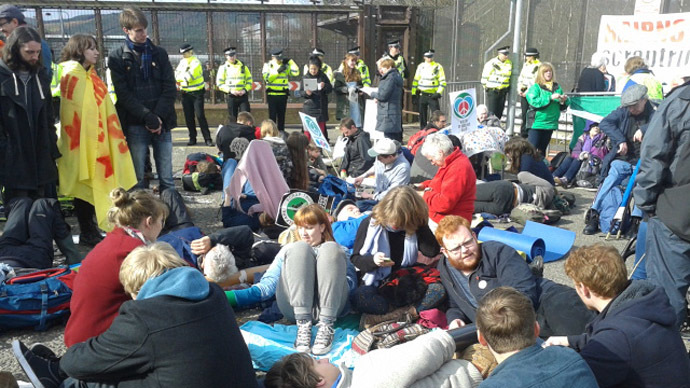 Some 34 anti-nuclear activists have been arrested at Faslane naval base in Scotland, according to organizers, as hundreds of protesters blockaded the home of Britain's nuclear weapons system.
Workers at the naval facility were sent home after failing to gain access to the site due to the blockade, according to The Common Space journalist Liam O'Hare.
Scrap Trident, a coalition of organizations including the Scottish Campaign for Nuclear Disarmament (SCND) and Trident Ploughshares, have been demonstrating outside the facility since 7 a.m.
Protesters are demanding an end to the UK's intercontinental ballistic missile program, which is up for renewal by the Westminster parliament in 2016.
Trident has become a contentious issue ahead of the general election in May, with Defense Secretary Michael Fallon pledging last week that a Conservative-led government would replace the Vanguard-class nuclear submarines with four new nuclear missile carriers.
Fallon's election promise followed a statement by Scottish National Party (SNP) leader Nicola Sturgeon, in which she said Trident was a "red line" issue the SNP would not support.
Hundreds of people are blockading Faslane naval base to protest the renewal of Trident http://t.co/9IcujVT2hepic.twitter.com/7UPB4A7A5V

— Liam O'Hare (@Liam_O_Hare) April 13, 2015
In the event of a hung Parliament, Labour may seek to form a minority government in an informal coalition with SNP.
Critics, including Fallon of the Conservative Party, argue that Labour would abandon the UK's nuclear weapons program to secure power.
Shadow Defense Secretary Vernon Coaker rejected the idea, insisting last week Labour was committed to renewing Britain's nuclear weapons program, which is set to cost taxpayers £100 billion over the course of its deployment.
One of the most poignant Internet memes in a long time... #Tridentpic.twitter.com/yeORZZNUfq

— LawrenceMcNeill ⛔️✌️ (@ljam185) April 13, 2015
Labour leader Ed Miliband said in January he supported renewing Trident, adding he is "not in favor of unilateral disarmament."
Monday's blockade of Faslane naval base follows anti-Trident demonstrations in Glasgow and London over the weekend.
Faslane tangle as base is closed down by anti-Trident protesters @heraldscotland@thoughtland@RuthWishartpic.twitter.com/vD5ADUTzgA

— Scrap Trident (@ScrapTrident) April 13, 2015
Police Scotland said 34 anti-nuclear activists were arrested in the blockade.
O'Hare, of The Common Space, reports that police have attempted to move anti-nuclear activists camped outside the naval facility's south gate, while the majority of demonstrators are protesting outside the north gate.
Arthur West, chair of Scottish CND, said in a statement: "The purpose of the event is to draw attention to the fact that all Britain's nuclear weapons are based just 25 miles away from our biggest city [Glasgow]."
READ MORE: Bairns Not Bombs: Hundreds say no to Trident in Glasgow rally (PHOTOS)
"We say get rid of nuclear weapons and spend the money on decent things like housing, jobs and education."
Speaking to RT, West added: "Scottish CND are campaigning in cities and towns across Scotland in the run-up to the general election."
"Our main message to voters at the election is to only support candidates who have given a clear commitment that they will vote against Trident replacement when the issue comes up in the next parliament."
Patrick Harvie, co-convenor of the Scottish Green Party, was among the demonstrators at Faslane on Monday.
Harvie, a member of the Scottish parliament, said in a statement: "Trident is an obscenity. Through direct action and through the ballot box we can make the case for the UK to play a new role on the world stage."
He added: "By choosing to disarm Trident we can reskill workers on the Clyde to provide defense of the strategically important northern seas, and diversify our economy for social good."