NATO ships arrive in Scotland for massive joint exercises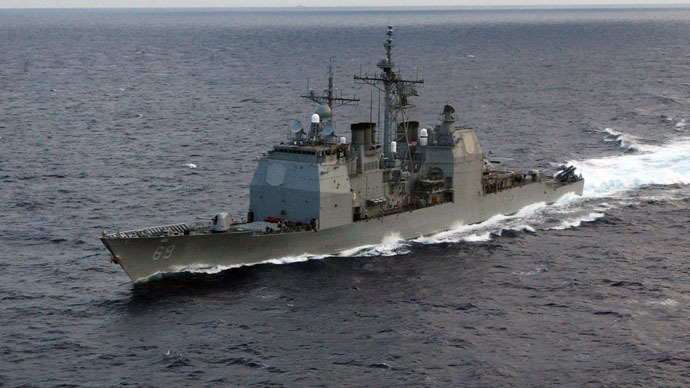 NATO's Standing Naval Forces have arrived in Scotland for the largest-ever Joint Warrior Drill, which will include 50 ships, 70 aircraft and 13,000 personnel from 14 countries.
The biannual military drills will be conducted between the 11 and 24 April, according to a statement released by the alliance.
"This exercise is a unique opportunity for us to work with our Allied shipmates. For most US Sailors, our training and qualifications are done with other US Navy ships; multinational exercises like this help our Sailors learn how to cooperate and excel with other navies in a challenging and multidimensional environment," said Lieutenant Commander Matthew Hamm, USS Vicksburg's operations officer.
READ MORE: 'Unprecedented & dangerous step': Russia slams NATO troop build-up
The aim of the exercises is to provide complex and coordinated training between military forces from various countries and to integrate land and maritime forces. They will also have an anti-terrorist dimension.
"Joint Warrior is a very good opportunity to showcase the interoperability skills we as an Alliance maritime force are always perfecting. With this exercise we have a chance to work together on a large scale and to implement all of the lessons learned from our previous exercises. It will be an exciting and busy time at sea," said Captain Gennaro Carola, Standing NATO Maritime Group Two's (SNMG2) Chief of Staff.
Many of the aircraft involved will fly from RAF Lossiemouth in Moray and Prestwick airport, a civilian airport with a long runway that also has military uses to the south of Glasgow in Ayrshire.
READ MORE: Romania will host NATO heavy arms if asked, as they support 'every venture' – bloc chief
Plane spotters are apparently already flocking to Prestwick, according to local media, while local residents in the northwest of Scotland have been warned that they might be disturbed by low flying helicopters.
"Prestwick stands ready to play its part in Joint Warrior and our involvement shows we have the expertise, capability and resources to assist in Europe's largest military exercise. We look forward to hosting numerous aircraft from the RAF and the Royal Navy as well as those from countries including France, Belgium and Holland. Aircraft types should include various fast jets, helicopters and transport aircraft such as Hawks, Falcon 20s, A340s and C130s," said Prestwick's Chief Executive Iain Cochrane.
Many of the ships involved have already started arriving at the Faslane naval base on the Clyde to the west of Glasgow.
READ MORE: 'That will show Putin!' Britain's RAF stages huge drills in face of 'Russian attack threat'
The Royal Navy has said that jamming will be limited to an area in the northwest of Scotland and the Mountaineering Council of Scotland has warned hikers that there may be disruption to GPS devises and to take a map and compass as well.
The last time Joint Warrior took place in Scotland in 2011 jamming was suspended after complaints by fishermen in the Western Isles.
The war games come just weeks after a Scottish fishermen, Angus Macleod, said the nets of his trawler were snagged by a submarine resulting in his nets being dragged continually in front of his boat. Such encounters can be dangerous for fishermen and he said he and his four crew were "extremely lucky".
You can share this story on social media: