Pressure builds on GCHQ as NGOs challenge mass surveillance in European court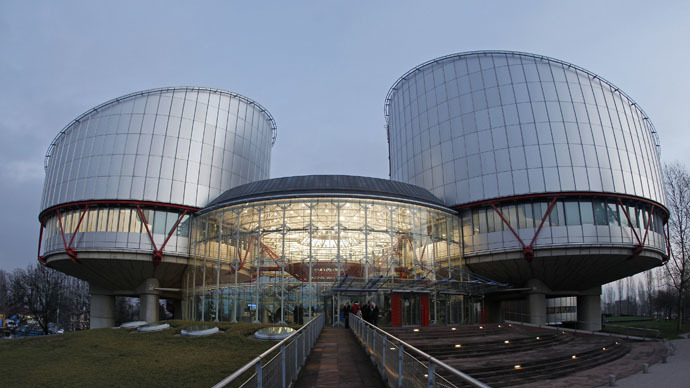 A group of leading human rights NGOs in Britain are taking the UK government to the European Court of Human Rights over invasive mass surveillance practices they warn violate Britons' right to privacy and freedom of expression.
The court appeal, filed by Privacy International, Bytes for All, Amnesty International, Liberty and other civil liberties groups, is a direct response to a ruling last December by Britain's surveillance court, the Investigatory Powers Tribunal (IPT).
The case, brought before the IPT, examined whether Britain and America's industrial surveillance programs uncovered by ex-NSA analyst Edward Snowden breach citizens' right to privacy.
The IPT ruling found that Tempora, a program set up to monitor web traffic flowing in and out of Britain via fiber optic cables, is entirely lawful. It also said Britain and America's intelligence sharing system known as Prism is legal.
READ MORE: Mass internet surveillance is 'corrosive of online privacy' – UN report
During the court proceedings, fragments of previously clandestine government surveillance policies were made known to the public, which influenced the tribunal's final decision. Because these policies had been made transparent, the IPT resolved industrial spying was compliant with international human rights law.
The appeal filed at the ECHR challenges the IPT's December ruling that industrial spying under Britain's controversial Regulation of Investigatory Powers Act 2000 (RIPA) complies with the UK's duty to protect its citizens' human rights. RIPA regulates public bodies' deployment of and access to surveillance.
The European Court of Human Rights will also consider whether certain provisions inherent to RIPA violate Article 14 of the Convention, which bans illegal discrimination. The GCHQ says the government will be "vigorously" defending the case.
"We completely reject the assertions made in the press release from Amnesty International and others, which do not reflect the judgments of the Investigatory Powers Tribunal. The IPT was clear in its December judgment that the legal regime is lawful, and that GCHQ does not seek to carry out mass surveillance. The government will be vigorously defending this case at the European Court of Human Rights," a GCHQ spokesperson told RT.
On shaky legal ground
The court appeal comes at a time when legal arguments justifying the government's surveillance policies are beginning to unravel. On February 6, Britain's surveillance court ruled that British intelligence services breached the law by accessing millions of individuals' personal data.
This landmark ruling signaled the first occasion that the IPT found UK security and intelligence services had been acting unlawfully for several years until the end of 2014. Since then the legal regime has been updated to ensure compliance. A judgment issued by the tribunal in December found the current system doesn't violate human rights.
Several weeks after the initial ruling, during a separate IPT case involving Reprieve and Amnesty International, the UK government admitted that its program governing the interception, collection and use of material privileged under law breaches the Human Rights Act.
The most recent appeal filed at the ECHR follows 18 months of litigation between human rights NGOs and the British government. It uncovered multiple legal issues with the UK government's mass surveillance techniques.
READ MORE: GCHQ spying 'doesn't breach human rights' – UK tribunal
Throughout the course of this legal wrangling, it emerged the UK government deems it justifiable to engage in mass surveillance of every Facebook, Twitter, YouTube and Google user in Britain, even if there is no suspicion that the user has broken the law.
In a bid to legitimize this, the government has secretly redefined Britons' use of these messaging platforms as "external communications," according to Privacy International.
Carly Nyst, legal director of Privacy International, said mass surveillance tramples upon citizens' basic rights.
"Intercepting millions of communications every day, and secretly receiving millions more from the NSA by the back door is neither necessary nor proportionate," she said.
Nyst argued that the IPT revealed a pro-government stance by siding with UK spy base GCHQ. However, she noted the ECHR has a "strong history of ensuring intelligence agencies are compliant with human rights law."
"We hope that the court continues this tradition and GCHQ is finally held accountable for its unfettered spying on the world's communications," she said.
READ MORE: 'Mission of liberty': Outgoing GCHQ boss defends mass surveillance
James Welch, Legal Director for Liberty, said the IPT maintains there are reasonable safeguards to protect Britons from industrial-scale privacy rights violations.
"We disagree, and hope the European Court will finally make clear to our security services that they cannot operate in near complete secrecy," he said.
"It is thanks only to Edward Snowden's revelations, and the scant disclosures we and the other claimants have been able to prise from the government, that we know anything whatsoever about what the intelligence services are up to."
Amnesty International lawyer Nick Williams said no individual is "above the law" and the European Court of Human Rights now has an opportunity to "make this clear."
"The UK government's surveillance practices have been allowed to continue unabated and on an unprecedented scale, with major consequences for people's privacy and freedom of expression," he said.
"This industrial scale mass surveillance makes it increasingly difficult for organizations like Amnesty International to carry out human rights work."
"It is critical that we are able to seek and receive information of public interest from our confidential sources, free from government intrusion."
You can share this story on social media: