​By jingo! UKIP pledge extra armed forces backing in emotive poster
Published time: 7 Apr, 2015 16:15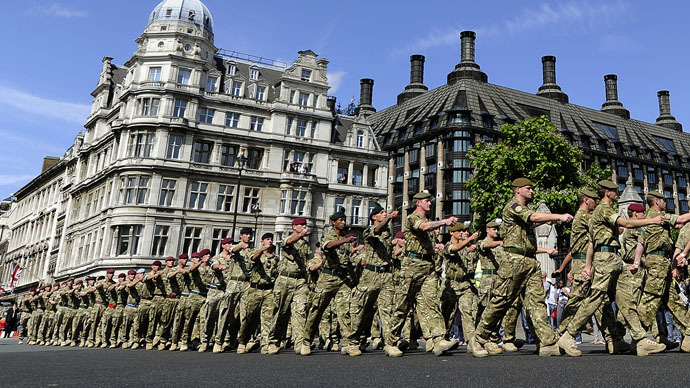 The UK Independence Party (UKIP) has pledged to increase the defense budget and hit NATO spending targets while promising service personnel "more funds, more respect and more support" in a new campaign poster.
UKIP is using the poster, which features a desperate looking soldier holding an upturned helmet as a begging bowl, to urge the government to meet the symbolic 2 percent of GDP spending stipulated by NATO rules for its member states.
UKIP is the only party proposing serious increases in defense spending, a position which is at odds with their insistence that Britain withdraw from, or in future avoid, what party leader Nigel Farage has termed "endless foreign wars."
Ukip has released its campaign poster on defence pic.twitter.com/C9Iq2qd5oQ

— John Stevens (@johnestevens) April 7, 2015
A central strand of the populist right-wing party's policy is honoring the Military Covenant – a theoretical obligation to extend certain guarantees of care to those who forgo particular rights by enlisting in the military.
On the policy page of its website, UKIP promise proper resourcing and pledge a number of favorable benefits for current and former personnel.
"UKIP will guarantee those who have served in the Armed Forces for a minimum of 12 years a job in the police force, prison service or border force."
The party also promises to prioritize housing for veterans, to found a US-style "Veterans Department" to provide after-service care, an ex-Forces identity card to fast-track health care and a national medal for service.
The poster's target audience is said to be traditional Conservative voters who view the armed forces particularly favorably and object to defense cuts.
Its release comes only a day after Prime Minister David Cameron urged those Tories tempted by UKIP to return to the fold.
The UK's willingness and ability to meet the NATO requirement is also a topic of concern for Britain's international partners.
READ MORE: Govt deems security risks too low to 'exempt defense from austerity,' says think tank
The most recent US figure to air his views on the UK's defense policy is former US ambassador to the United Nations John Bolton.
Speaking to the Telegraph newspaper, Bolton said: "A diminished UK military strength also has a more profound effect internationally because it is a sign to our mutual enemies that there is a diminished will in the West to defend itself. It sends an extremely negative signal to our enemies.
"Cuts and proposed cuts in British defense spending could not come at a worse time, politically and militarily."
"Rather than seeking ever-deeper military budget cuts, the UK – and the United States – should be planning on sharp increases in manpower, weapons systems, and information technology."