​UKIP heavies? Far-right Britain First rallies to Farage's defense, attacks left-wing rivals (VIDEO)
Published time: 31 Mar, 2015 17:54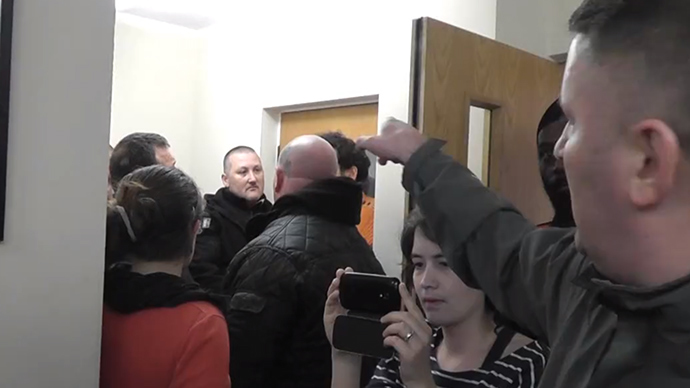 Far-right group Britain First attacked a meeting of rival activists in retaliation for a political "cabaret" protest held in UKIP leader Nigel Farage's local pub in Kent last week.
The meeting, held by Beyond UKIP in an office block in Old Street, London on Monday night, saw Britain First storm the premises chanting "Left-wing scum, off our streets."
After failing to breach the meeting room, Britain First organizer Paul Golding told those present: "We've come here tonight to give them a taste of their own medicine."
"If you overstep the mark you will find us on your doorstep."
Exclusive footage handed to RT shows the attack from the besieged activists' perspective.
RT spoke to a Beyond UKIP member who was present at both the pub protest and the Britain First siege in Old Street.
Bilal, a London-based PhD student, told RT: "People were shaken up, mainly because they brought so many people (eight to 10 according to the Metropolitan Police) and also because there was at least one pregnant woman in the room and, as you know, adverse stimuli can have really terrible health effects.
"We started recording immediately, called the police, and barricaded the door to prevent them from entering. People were panicking, but stayed calm enough in order to deal with the situation, including giving police statements afterward."
"The Britain First video doesn't include them slamming on the door, and going to the walls and hitting them to intimidate us."
Asked if Beyond UKIP expected this kind of backlash, Bilal said: "We expected that people would be angry about it, but we did not expect that Britain First would get involved in such a physically confrontational manner, especially not with their leader.
"It indicates quite a bit of fear, but also cynicism, since Paul Golding is clearly attempting to capitalize on the news story to make Britain First seem more effective."
As to the question of whether Britain First were acting independently of Farage, Bilal said: "I don't think that it can be disputed that some ties exist between Britain First and UKIP unless Nigel Farage explicitly disavows them and condemns the group.
"Otherwise, it looks as though Golding recruited people to take revenge against anti-UKIP dissenters in Farage's name, which is obviously not what voters want from any Westminster party. It recalls the kind of violence that characterized British politics decades ago."
A Met police spokesman reported that a 48-year-old man had been arrested at the scene on suspicion of assault.