​Luftwaffe's legacy: Huge WWII bomb found in London, controlled explosion planned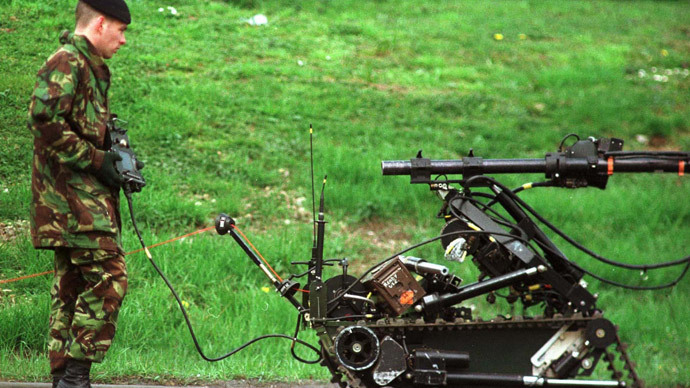 An unexploded bomb, dropped on London by the German Luftwaffe during the Second World War, was uncovered by builders at a construction site in the capital. Police warn it could take a "very long time" to make the device safe.
Police have warned residents living near the construction site the device could potentially destroy their homes and put their lives at risk.
In a leaflet handed to residents living near the construction site, the Metropolitan Police said: "The Army bomb disposal team have advised that, if the bomb explodes, buildings in the 200-metre zone will be significantly damaged and those close to the bomb will be destroyed. Remaining in your home is placing your life at significant risk."
A large number of homes and businesses have been evacuated within a 400m exclusion zone of the 1,000lb (454kg) bomb as a precaution.
So here are my photos of what a 250kg 2nd world war bomb looks like up close #Bermondsey#bombpic.twitter.com/17kRoqJ2HY

— Rupert Frere (@Rupert_Frere) March 23, 2015
The Met has warned the disruption could last a long time, as experts are trying to safely dispose of the bomb.
The bomb squad plans to transport it in a fleet of Army trucks. It will then be destroyed in a controlled explosion at a military site.
Evacuees of 2015 showing blitz spirit via mass phone charger swap in Rest Centre. The modern day cup of sugar #UXB#Bermondsey

— Lucas Green (@LordLucas) March 24, 2015
Southwark ward councilor Lucas Green told Twitter followers the police are "telling residents within the 200m exclusion zone that the Army hope to have removed and disposed of the UXB (unexploded bomb) by 4pm [Tuesday]."
This is the UXB (Unexploded Bomb) site in Grange Walk, Bermondsey pic.twitter.com/HtVVqunzVy

— Lucas Green (@LordLucas) March 23, 2015
He said the bomb was buried two to three meters underground and still had its tail fin intact, AFP reports.
A Met Police spokesman said: "The device is huge – it is a big fuss. Self-evidently from the nature of the operation, it is a big one, it is being dealt with but it could be problematic.
"We are on the case along with partner agencies but this could take a very long time. We will be issuing a further statement shortly."
You can share this story on social media: