Yummy mummy? 'Placenta smoothie' business on hold over public health fears
Published time: 19 Mar, 2015 15:13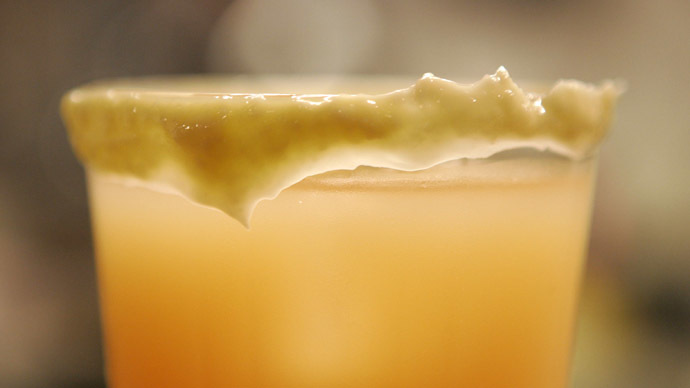 A local council has ordered public health officials to investigate a Wiltshire woman's placenta-based food product business over fears that it may not be safe for consumption.
Kathryn Beale, 41, turns women's placentas into smoothies and pills at her home in Swindon, Wiltshire, and says she maintains a high standard of hygiene throughout the process.
However, when Swindon Borough Council caught a whiff of the mother of two's activities, they went to court to apply for an emergency prohibition order.
A council spokesperson told the Guardian: "We can confirm public protection officers attended court on Tuesday 10 March seeking a hygiene emergency prohibition order in respect of raw human placenta practices.
READ MORE: Scientists discover secret code hidden within human DNA
"Our investigations continue, and we are therefore unable to comment further at this stage. While the health benefits of this activity are not clear, the processes involved in the production of human placenta for human consumption present a number of potentially serious health risks, which explains this action."
The attempt to get a legal injunction failed, but Beale volunteered to stop making the smoothies until she could gain a proper official hygiene rating.
A committed proponent of ingesting placentas, Beale told the Daily Mail: "Most species of mammal eat their own placenta straight after birth, raw – it is normal in the animal kingdom.
"We are unusual in that we don't routinely do it. It is full of iron, stem cells and hormones and is reputed to help with milk production and post-natal depression."
READ MORE: Spanish hospital uses stem cells to fix heart attack damage
Beale makes the smoothies by cutting up small pieces of placenta and blending them with fruit. The remainder of the organ can then by dehydrated and ground.
It is then processed into pill form using a Chinese method in which ingredients like ginger, chili and lemon are added.
The only placenta an individual is allowed to ingest is their own, Beale told the Guardian.
"Somebody, I don't know who, contacted the council and asked what my hygiene rating was, and I don't have one yet. Hopefully it will be sorted soon and someone will come, inspect my equipment and give me a hygiene rating."
"The health benefits are great. After giving birth, most mums are anemic to some extent, and placenta is full of iron, so it helps with that. It also helps with postnatal depression, baby blues and milk production," she said.
The practice of ingesting placenta is known as placentophagy and has a long and presumably rather messy history.