UKHIP: Pro-immigrant group plans humanitarian 'D-Day style flotilla' to Calais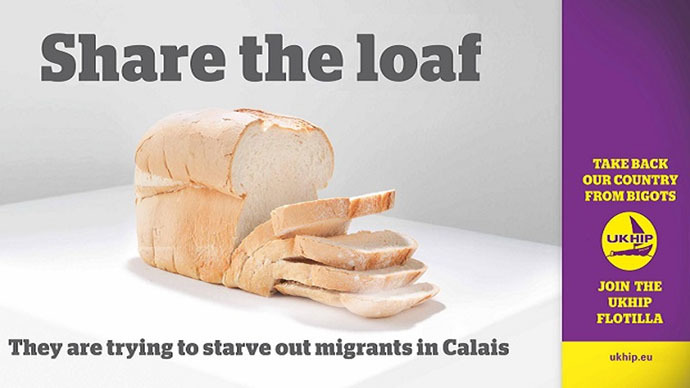 It looks like UKIP, it even sounds like UKIP but UKHIP is very different to Nigel Farage's anti-immigration party. Its aim is rather to help out struggling refugees in Calais who live in squalor while trying to illegally enter Britain.
The UK Humanitarian Intervention Party (UKHIP) is trying to raise a modest £2,000 by March 21 to buy tents, food, sleeping bags and warm clothes for a trip to Calais.
In what the groups call a "D-Day style flotilla", the group plans to sail from Dover to Calais to give aid to the almost 4,000 migrants stranded in Calais, who live in appalling conditions while trying to make the voyage to the UK.
Show some loaf for the Calais migrants! Join the #UKHIP flotilla on 28 March http://t.co/YayOJa5cZQ@CharlottEnglandpic.twitter.com/cnZIIXP8XN

— UKHIP (@UKHIPHumans) March 17, 2015
A similar mercy mission took place in January, which was recorded by a group of film makers who travelled to the channel port with UKHIP.
The group, which sports the same distinctive purple and yellow colors as Nigel Farage's party says it wants to change the "toxic attitude" to immigration that is now beginning to permeate in Britain thanks to the better known United Kingdom Independence Party and the Daily Mail.
While £2,000 may not seem like a lot of money UKHIP says that it can buy a lot. Just £30 will provide a tent, £20 a sleeping bag and £10 a selection of nutritious tinned food.
As of the end of last year, local officials in France believed there were around 2,500 illegal migrants in Calais.
The refugees trying to board trucks and ferries bound for the UK have become a thorny issue between British and French authorities with calls for British police to be sent there, something France has refused to allow.
For many migrants the UK is the top destination in Europe, as they believe it will be more welcoming than other European countries.
"Britain is better than any other country in Europe. In the UK you can find [a]job, documents anything ... also people in the UK love the black people," Fiver, a refugee from South Sudan, told the IB Times last month.
"It [the crossing] is dangerous but we have dreams. My dreams tell me 'go'," he said.
You can share this story on social media: