'Bitterly disappointed' Oxford students occupy over fracking divestment deferral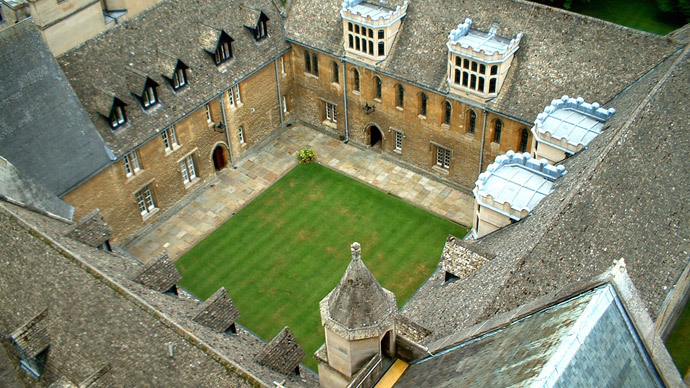 University of Oxford students have seized a campus building in protest over the deferral of a decision to divest in fracking shares.
Fifteen students carrying a banner have occupied the Clarendon Building.
Former University of Oxford Finance Director John Clements threw his lot in with the protestors.
"We are bitterly disappointed about the university's failure to come to a decision," Clements told the Guardian. "Oxford should be leading the move away from investment in all world-destroying fossil fuel companies to more sustainable forms of energy."
READ MORE: UK fracking firm accused of 'bribing' land and property owners
While no attempt was made to clear the students from the building, protesters said the security presence was immediately increased.
"There's lots of police around. They've put two security guards inside here with us," they said.
The sit-in follows a decision by the university to place talks regarding fossil fuel industry divestment on hold
In October last year the Oxford University Students Union (OUSU) voted for a motion demanding the world famous institution relinquish shares in fracking and tar sands extraction and instead buy into what campaigners say are more environmentally sound industries.
On Monday the university council released a statement.
READ MORE: UK to allow fracking drilling under people's land without their consent
"Last October's Oxford university student union resolution has raised an important and multi-faceted matter which requires thorough consideration. The university council had a good discussion of the issues and agreed to consider the matter further at a future meeting."
One student environmental activist, Ellen Gibson, told the Guardian: "Choosing not to act at a time when inactivity is an increasingly risky and unethical move. Avoidance of divestment by the University will not slow our campaign or indeed the pressing need for meaningful action on the climate crisis."
The campaign to divest from fracking has been gathering considerable momentum in the UK.
As the Oxford divestment vote was passed in October, the University of Glasgow also pledged to step away from fracking.
The same month saw the Move Your Money Campaign, which is backed by the Joseph Rowntree Charitable Trust, urge the customers of major UK banks to demand their involvement in the fossil fuels industry be made public.
You can share this story on social media: