​Cookbook or Israeli propaganda? Waitrose slammed for 'Taste of Israel' pamphlet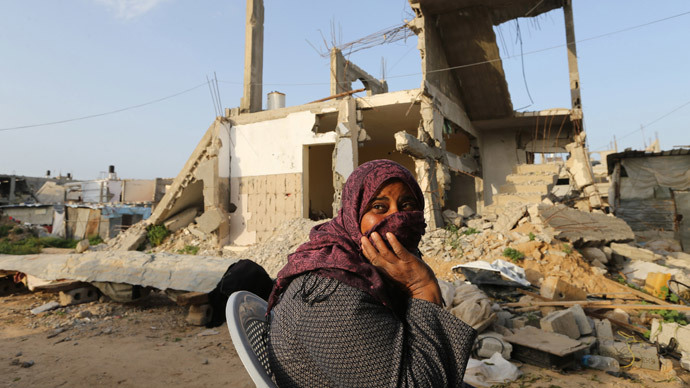 A British supermarket chain has come under fire on social media for including a government sponsored 'Taste of Israel' pamphlet in their monthly magazine.
Waitrose, which is the sixth largest supermarket chain in Britain, received a tirade from Twitter users who accused them of endorsing alleged atrocities in Palestine.
Several Twitter users said they would be returning their Waitrose loyalty cards or refusing to shop there in protest.
@waitrose Will be sending back my "free coffee"card, can't see myself ever stepping in your store again, shame #TasteofIsrael

— Donna (@dnairn8417) March 17, 2015
@waitrose#TasteOfIsrael A more accurate name is " a taste of Palestinian children's blood." Youve lost a loyal customer

— Ozzy (@ozzypotato) March 17, 2015
Published by the Israeli Government Tourist Office, the pamphlet has been attacked for calling Arabic cuisine and ingredients Israeli.
Some social media users pointed this out in their criticism.
Poor tekkers from @waitrose in their shambolic #TasteofIsrael propganda. Can I get a side order of Palestinan olives and hummus with that?

— Haroon Bhatti (@HAROOONEY) March 16, 2015
Another Twitter user pointed out that hummus is the Arabic word for chickpeas.
#tasteofpalestine not #tasteofisrael@waitrose Since when did Hummous become Israeli? The word in itself is Arabic for chickpeas!!!!

— Anoushay (@ShaySLC) March 16, 2015
Mark Kerrison poked fun at the advertising campaign.
Some Israeli Government propaganda fell out of my @waitrose magazine! A #TasteofIsrael brochure full of pictures of Palestinian delicacies!

— Mark Kerrison (@veripix) March 11, 2015
Other Twitter users reminded Waitrose that the ongoing Israeli blockade of the Gaza Strip prohibits food from entering the region Noam Chomsky has described as "the world's largest open-air prison."
@waitrose u do understand that Israel is hindering international aid & seizes food from Gaza's innocents? #TasteofIsrael

— SuelolaPasha (@suelolapasha) March 17, 2015
Samana Fazel called the supermarket's attention to how Israeli policies impact on Palestinian agriculture.
Did your supplement mention how Israel stifle Palestinian olive growers? Think I'll start shopping elsewhere. @waitrose#TasteofIsrael

— Samana Fazel (@SamanaFazel) March 16, 2015
One Twitter user posted photos of the destruction in Gaza as a result of last year's Operation Protective Edge, which the UN estimates killed 2,205 Palestinians and 72 Israelis.
This is a #TasteofIsrael which #waitrose don't want you to see. pic.twitter.com/mHr1qjalhl

— Paul (@Paul1Singh) March 17, 2015
Here's another #TasteofIsrael which people don't want you to see. #BoycottIsraelpic.twitter.com/c7JdWWIPj0

— Paul (@Paul1Singh) March 17, 2015
The Palestine Solidary Campaign has urged customers to complain directly to Waitrose.
In a news bulletin on their website, they said: "The booklet is a prime example of Israeli government propaganda, highlighting its efforts to distract the public abroad from its brutal military occupation of Palestinian land by replacing the image of an apartheid regime with that of a tourist-friendly, culture-loving country."
READ MORE: 'Israel has it all': UK ad authority bans 'misleading' Jerusalem travel brochure

"It is also a shocking example of the Israeli appropriation of Palestinian culture – in this case, food – in an attempt to erase the memory of Palestine from the land and replace it with Israel," they added.
William Sitwell, editor of Waitrose Kitchen Magazine, said: "Waitrose Kitchen is not political – we take adverts from a wide range of different businesses and organizations."
The Israeli Government Tourist Office made national headlines earlier this month when an advert, which depicted the Old City of Jerusalem and claimed "Israel has it all", was banned by the Advertising Standard's Authority (ASA) for misleading the public into thinking the area was part of Israel.
Israelis took to the polls on Tuesday in what pundits are describing as a "close" election between Prime Minister Benjamin Netanyahu's party and the center-left Zionist Union.
You can share this story on social media: