​Ed 'Two Kitchens' Miliband: Tweets mock Labour leader over opulent £2.3mn London home
Published time: 13 Mar, 2015 13:29
Edited time: 13 Mar, 2015 13:43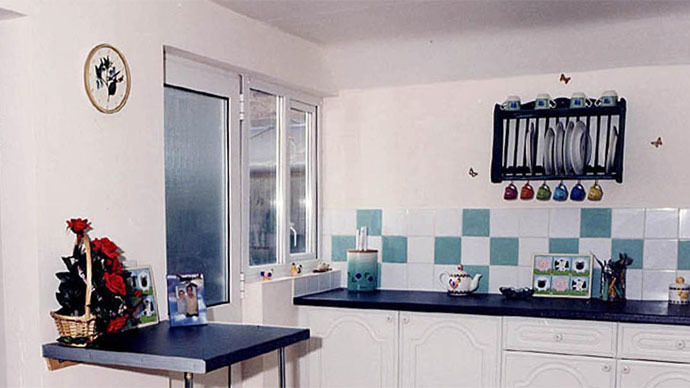 Labour Party leader Ed Miliband has faced a deluge of Twitter outrage after a video of him and his wife at home, intended to show the would-be PM's domestic side, was filmed in their second, smaller kitchen so they would appear down to earth.
The small kitchen, later reported to be a "functional kitchenette," was actually the smaller of two kitchens in the Milibands' £2.3 million North London home.
The scene of the Labour leader and his wife has seen him dubbed Ed "Two Kitchens" Miliband, following in the footsteps of John "Two Jags" Prescott, and mocked by Conservative MPs.
REVEALED: Yet another MP with two hobs... #2kitchenshttp://t.co/OtVOzlwJxppic.twitter.com/7MjWkD5smf

— Kay Burley (@KayBurley) March 13, 2015
The backlash against Miliband comes after his wife, Justine, took part in an interview with the BBC, where she defended her husband and spoke of concern about "vicious" personal attacks against him.
Miliband: "It's ridiculous to say I'm out of touch because I have two kitchens. I simply haven't. The other one is a butler's pantry."

— Giles Coren (@gilescoren) March 12, 2015
In the video, the couple were pictured walking in the park and drinking tea together in the small kitchen, which prompted Tory MP Michael Gove's wife, Sarah Vine, to mock the décor, likening the "bland, functional and humorless" kitchenette to "communist era housing."
READ MORE: Conservative's 'Ed Mini-band' poster mocked by internet
In response, Jenni Russell, a columnist and friend of the Milibands, tweeted that their main kitchen was "lovely," and insisted that the room shown in the video was only their second kitchen.
I only have a kitchen because it came with the house. Now apparently I need to have TWO kitchens to be a somebody. *sighs*

— Julia Hartley-Brewer (@JuliaHB1) March 13, 2015
"Ed Miliband's kitchen is lovely," Russell tweeted, adding that the room shown was a "functional kitchenette by sitting room for tea and quick snacks."
After her comments drew criticism, she attempted to clarify the remarks, saying it was more of a "tea prep area" where people "can't even sit."
"if you can't stand the heat, get out of the kitchen - and go to your second kitchen, it might be cooler" E. Miliband, 2015 #twokitchens

— Rick Edwards (@rickedwards1) March 12, 2015
The Twitter spat sparked criticism of the Labour leader, with his Conservative opponents calling him hypocritical.
Conservative MP Nigel Adams said: "Clearly there's no cost of living crisis for 'Two Kitchens' Miliband. It's a bit rich lecturing people about poverty from his £2 million mansion."
"Red Ed can try as much as he likes to portray himself as a man of the people but the only people he's in touch with are the North London metropolitan elite," he added.
It emerged Friday morning that Miliband had defended the photo opportunity, saying he did have two kitchens, and denying that he posed in the smaller one to give the impression of being a "man of the people."
"I think Justine would probably say she wishes I'd spend more time in the kitchen. The house we bought had a kitchen downstairs when we bought it. And it is not the one we use. We use the small one upstairs," he told the Birmingham Mail.