​Unarmed male civilians majority of Gaza, Syria fatalities last summer – UK report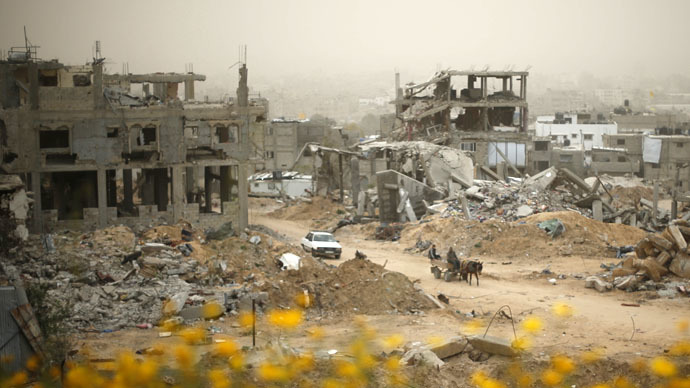 Far more male than female civilians died from explosive weapons in Syria and Gaza last July, a report reveals. The research refutes any assumption that women disproportionally bear the impact of explosive violence against civilians in war-torn zones.
In a bid to shed new light on the grueling impact of explosive weapons on male and female civilians in conflict regions, UK think tank Action on Armed Violence (AOAV) analysed civilian fatalities in Syria and Gaza.
The study examined the numbers killed in these territories during July 2014 – a particularly bloody month marred by civilian casualties across the globe.
Where are armed actors getting materials to make IEDs? AOAV's new report investigates https://t.co/irdaw2amEA

— Iain Overton (@iainoverton) March 13, 2015
On July 8, the Israeli administration launched Operation Protective Edge against Hamas in the occupied Gaza strip. Seven weeks of bloody violence ensued.
During that time, conflict in Syria also intensified between pro and anti-Assad forces as jihadist militia, including Islamic State, became further embroiled in fighting.
AOAV focused its research on these regions, as both were among the worst affected by armed violence during this period.
READ MORE: Business as usual: UK arms factories 'profit' from Palestinian bloodshed
As part of its research, the think tank scrutinized data sourced from the Centre for Documentation of Violations in Syria (VDC) along with weekly reports released by the Palestinian Center for Human Rights (PCHR).
The group's findings "were unequivocal," the report said.
The research revealed explosive violence stemming from conflict in Gaza and Syria was predominantly responsible for the death of civilian men and boys.
In both regions, an overwhelming 75 percent of civilian fatalities were reported as being male. However, this statistic only accounts for incidences where the gender of related civilian fatalities was known.
Number tortured to death in Syria since uprising began? Monitor says nearly 13,000. http://t.co/UP5tsZT4ZLpic.twitter.com/GN5HSZFnAV

— AJE News (@AJENews) March 13, 2015
In Gaza, 61 percent of civilian deaths were male, while 20 percent were female, AOAV's report suggests. Of a total of 1,195 civilian fatalities, reported figures were as follows: 615 men, 117 boys, 180 women, and 64 girls.
In Syria, the think tank says 76 percent of civilian deaths were male, while 24 percent were female. Out of 865 fatalities, reported figures indicated 526 were men, 135 were boys, 117 were women and 87 were girls.
Leading locations for civilian injuries and deaths include market places and residential areas, according to AOAV.
In Gaza, the majority of explosive weapons responsible for these deaths were manufactured, Iain Overton, Director of Policy and Investigations at AOAV, told RT.
In the case of Syria, much of the arsenal were improvised explosive devices such as barrel bombs, he said.
READ MORE: 'Tools of terrorists and tyrants': IEDs 2nd most deadly weapon on planet – arms charity
Overton, a journalist who has won prestigious awards for ground-breaking human rights reporting, told RT public debate is required to address the misconception that "women disproportionally bear the brunt of explosive violence against civilians in conflict zones."
"Many men are being killed who are entirely innocent, and there should be more debate about this terrible reality," he said.
Overton stressed, however, that armed explosive violence in conflict zones often has a grueling impact on women who escape fatal blasts.
Particularly damaging "long term secondary effects" of such violence can often push vulnerable women into poverty and prostitution, he said.
Chris Nineham, a spokesperson for UK campaign group Stop The War Coalition, said the actions of the British government have impacted heavily on Gaza and Syria's humanitarian crises.
"Hypocrisy is at the heart of UK foreign policy," he told RT.
While the government publicly decries the Assad regime and other rebel groups responsible for grave atrocities in Syria, UK government policy has compounded the situation, Nineham said.
"UK foreign policy has been a contributing factor to the intensity of the civil war in Syria, including the supply of weapons to anti-Assad forces historically," he said.
Nineham warned that the British government has not done enough to help the people of Gaza.
"Virtually unreported suffering can be laid at the door of the UK government on account of its continued support for Israel and its refusal to criticize or challenge Israeli assaults on the Gaza strip," he said.
You can share this story on social media: