Farage race row: 'Brits think Muslims will form fifth column & kill us'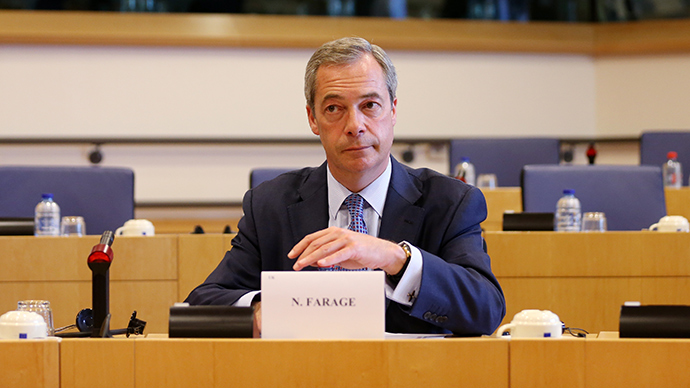 UK citizens believe Muslims want to form a "fifth column and kill us" and laws against discrimination on the grounds of race and color should be scrapped, according to UKIP leader Nigel Farage.
The controversial politician made the comments during an interview for Channel 4.
He told former Equality and Human Rights Commissioner Trevor Phillips: "I think perhaps one of the reasons the polls show an increasing level of concern is because people do see a fifth column living within our country, who hate us and want to kill us.
"So don't be surprised if there isn't a slight increase in people's worries and concerns. You know, when you've got British, when you've got people born and bred in Cardiff, with British passports, going out to fight for ISIS, don't be surprised if there isn't an uptick in concern. There has been an uptick in concern, but does it make us a prejudiced people? No."
Scrap race laws? Nigel Farage and UKIP are the reason why we need race discrimination laws in this country

— Jeremy Vine (@jeremy_vine) March 12, 2015
Farage also criticized anti-discrimination laws regarding recruitment, suggesting they were no longer needed.
"I think the employer should be much freer to make decisions on who she or he employs.
"I think the situation that we now have, where an employer is not allowed to choose between a British-born person and somebody from Poland, is a ludicrous state of affairs.
What Nigel Farage said makes sense. Politically correct race laws work against native whites. It's time to do away with them. #UKIP

— Englands Own (@EnglandsOwn66) March 12, 2015
"I would argue that the law does need changing, and that if an employer wishes to choose, or you can use the word 'discriminate' if you want to, but wishes to choose to employ a British-born person, they should be allowed to do so."
Farage said of UKIP, "We as a party are color-blind."
READ MORE: 'We poked Russian bear with a stick, unsurprisingly Putin reacted' – Farage
The mainstream parties were quick to respond to his comments.
Downing Street told the BBC that Farage's comments on employment laws were "deeply concerning."
Labour Party Shadow Justice Secretary Sadiq Khan said, "We have made huge progress on tackling racial inequality and discrimination in this country, partly because of Labour's strong anti-discrimination laws, but things are still far from perfect.
"When my parents moved to London they frequently saw signs saying 'no blacks, no dogs, no Irish.' What UKIP is suggesting would take us back to those days."