Ebola-diagnosed military health worker to be treated in UK
Published time: 12 Mar, 2015 09:35
Edited time: 12 Mar, 2015 10:03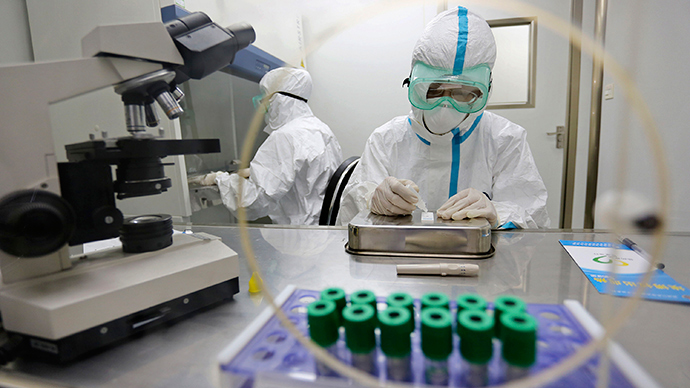 A military health worker diagnosed with Ebola on Wednesday will be flown back to the UK for treatment, the Ministry of Defence (MoD) has confirmed.
The MoD said on Thursday that an RAF C17 plane had flown to Sierra Leone with an expert on the disease from the Royal Free Hospital in London on board.
"Despite there being stringent procedures and controls in place to safeguard UK service personnel, there is always a level of risk in deployments on operations of this type," an MoD spokeswoman said.
Public Health England (PHE) said an investigation into how the worker contracted the virus is currently underway. She is believed to have fallen ill at the Kerry Town Crisis Centre, built last year by the British Army and funded by the UK government.
READ MORE: UK military health worker diagnosed with Ebola
"Any individuals identified as having had close contact will be assessed and a clinical decision made regarding bringing them to the UK," the organization said.
"The UK has robust, well-developed and well-tested systems for managing Ebola and the overall risk to the public in the UK continues to be very low."
The woman is the second British citizen to be infected with Ebola in 2015 after nurse Pauline Cafferkey was diagnosed with the disease upon her return from Sierra Leone in January.
Another British man, Will Pooley, contracted the virus in 2014 and was successfully treated in the UK.
The military health worker is the third foreign medic to be infected in Sierra Leone. In November last year, a Cuban doctor was flown to Geneva for treatment and survived.
Since the beginning of the current outbreak, more than 600 health workers have become infected in the three worst affected countries. Some 300 have died as a result, the majority West African.
More than 9,500 people have died as a result of the epidemic.