Euroskeptics 'ignoring EU's collective security' in face of 'Russian threat' – Labour
Published time: 11 Mar, 2015 14:17
Edited time: 11 Mar, 2015 17:12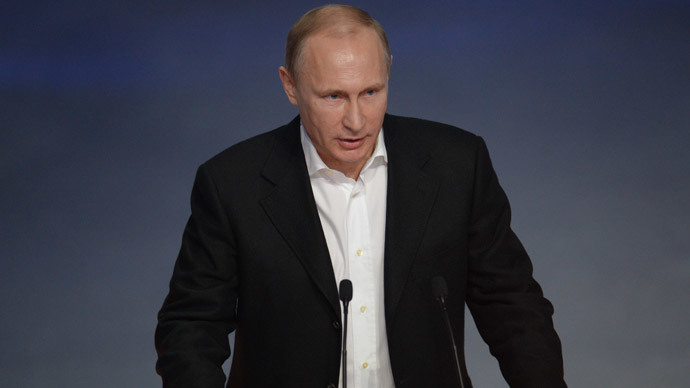 ​The government approach to collective European security is contradictory and plays directly into the hands of Russian President Vladimir Putin, says the Labour Party's shadow Europe minister.
Pat McFadden MP warned against the risks of a divided Europe, adding that the reality of the continental security situation both demands a collective response and debunks the British Euroskeptic case for withdrawing from the union.
Addressing the Fabian Society on Wednesday, McFadden said "Britain's debate about its future relationship with the EU risks almost entirely ignoring the issue of our collective security. This is a mistake we can no longer afford."
He said Prime Minister David Cameron was peddling a double standard on Russian tensions.
"It is utterly incoherent for our prime minister to call for tougher European action against President Putin in one breath and then threaten to leave the EU in the next. Security is the unspoken dimension of this European debate.
READ MORE: We couldn't cope': UK would lose war against Russia – senior RAF officers
"This is no time for democratic nations to consider breaking from their allies. While Euroskeptics crave the breaking of ties to the EU, the security situation demands common action and resolve."
McFadden said Britain must continue to engage with the world.
"Whenever the West has been tested in the past, it has looked to Britain. Today, such is the confusion and incoherence of the British government's position, some are no longer looking."
His comments come as a row has emerged in the UK over the suggestion by EU Commission President Jean-Claude Juncker that a European army be formed from the union's constituent nations.
"A common European army would convey a clear message to Russia we are serious about defending our European values," Juncker said.
It is move to which David Cameron has previously been opposed.
Tory MEP and party defense spokesman Geoffrey Van Orden attacked the idea.
READ MORE: Costly 'paper tiger': EU army plans under scrutiny for financial reasons
"This relentless drive towards a European army must stop. For Eurocrats every crisis is seen as an opportunity to further the EU's centralizing objectives.
"However the EU's defense ambitions are detrimental to our national interest, to NATO and to the close alliances that Britain has with many countries outside the EU – not least the United States, Gulf allies and many Commonwealth countries."
Reacting to the EU army proposal, senior Russian lawmaker Leonid Slutsky said the bloc is paranoid about Russia.
"The European version of paranoia: declaring the establishment of a unified army to counterbalance Russia, which does not intend to go to war with anyone," Slutsky tweeted.
Cameron will have to face down a Tory revolt on defense cuts this Thursday with his own MPs determined to force a vote on armed forces reductions.
Britain's willingness and ability meet the symbolic 2 percent of gross domestic product (GDP) required from NATO member states are a central strand of the debate.
Mike Hookem, UKIP Defense Spokesman give his reaction to Cameron's plan to mix Mi5, Mi6 & GCHQ budgets