​Gaza off limits: Foreign Office blocks Scottish minister's aid visit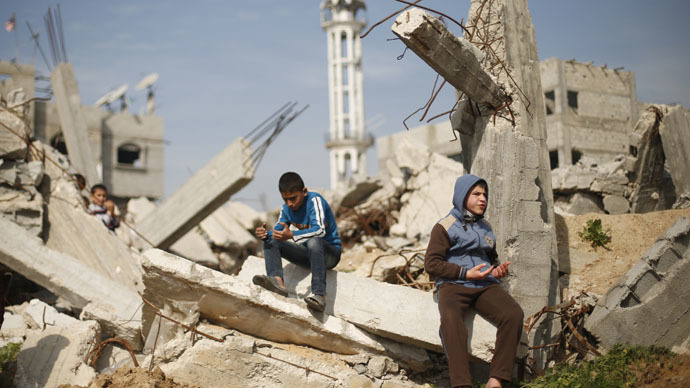 A Scottish minister has accused the British government of blocking his fact-finding mission to Gaza after the UK Foreign Office withdrew its support for the trip.
Humza Yousaf, Scottish minister for external affairs and international development, had intended to follow up on a £500,000 donation the Scottish Government made to humanitarian aid efforts in the Gaza Strip.
While the Foreign and Commonwealth Office initially approved the trip, it made a volte-face citing security concerns and the fact Westminster has exclusive responsibility for the UK's relations with the Israeli occupied territory.
In a letter to Foreign Secretary Philip Hammond, Yousaf said he was frustrated the British government was effectively barring Scottish ministers from visiting humanitarian projects in Gaza.
The Scottish government gave half a million pounds in aid to the United Nations Relief and Works Agency (UNRWA) Gaza Flash Appeal last year.
UNWRA's emergency appeal for funding came after relations between Israel and Gaza degenerated into violence last summer.
Israel's military offensive, known as 'Operation Protective Edge,' saw the large-scale bombardment of the Gaza Strip.
It resulted in the death 2,205 Gazans, according to the United Nations, and 66 Israeli soldiers.
Yousaf was a vocal critic of Israel during its military operation last year. In one tweet he said he was "appalled at civilian casualties in Gaza."
Appalled at civilian causalities in Gaza. Have announced £500,000 from Scotland to Gaza via @UNRWA emergency appeal http://t.co/Dzf9FUWj54

— Humza Yousaf (@HumzaYousaf) July 30, 2014
In his letter to the UK Foreign Secretary, Yousaf said: "Although FCO officials initially said that they were in principle able to provide support for such a visit, I have since been informed that the FCO view has changed and that the FCO would not support a visit to Gaza for two reasons.
"Firstly that the security situation in the region presents a greater than usual risk and that officials are advising against all ministerial travel; and secondly an assertion that the UK works exclusively to a reserved foreign affairs agenda in Gaza."
Yousaf goes on to challenge the notion the UK "works exclusively to a foreign affairs agenda in Gaza."
He says a Scottish ministerial visit to Gaza would highlight Scotland's "international development agenda and the support it has given in the area."
Yousaf said he welcomes an offer for the British Consul General in Jerusalem to update Scotland on the use of its aid.
READ MORE: '100yrs to repair Gaza': Oxfam says blockade remains, aid almost non-existent

He asked Hammond to promise the FCO will support future visits from Scottish ministers to Gaza when the security situation improves.
In a separate controversy over access to Gaza, British MPs have called on Israeli authorities to give them permission to visit the occupied territory.
A motion was passed in Parliament last week calling for the British government to pressure Israel to grant MPs access to Gaza, which continues to be off-limits.
Baroness Morris, the government's trade envoy to Palestine, said: "The people in Gaza are cut off and isolated. A change in attitudes of UK politicians depends on visits."
You can share this story on social media: