​'Blood on their hands': Cameron to meet Mexican president, raise human rights abuses
Published time: 4 Mar, 2015 14:42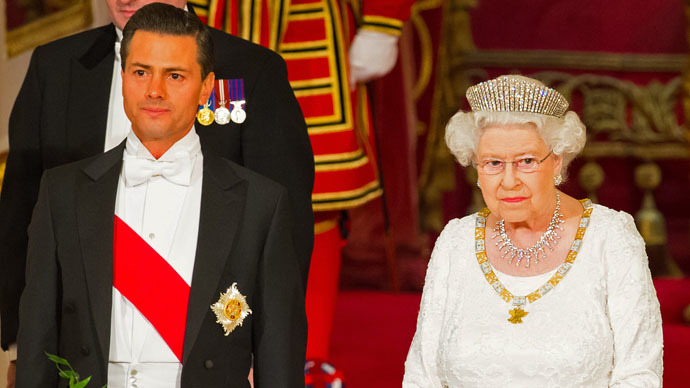 Prime Minister David Cameron will raise human rights concerns with the Mexican president Enrique Pena Nieto during his three-day state visit to the UK, Downing Street said.
There has been growing pressure on the president over the abduction and alleged murder of 43 students.
The Mexican president has already met Deputy Prime Minister Nick Clegg, Home Secretary Theresa May and several dignitaries, including the Queen and the Duke of Edinburgh during his visit.
Human rights campaigners are using the visit of Pena Nieto to highlight what Amnesty International UK has described as "out-of-control" torture in Mexico. Amnesty has urged the British prime minister to discuss human rights issues in Mexico with Pena Nieto.
The students' disappearance and alleged slaughter in Ayotzinapa in September last year sparked weeks of protests across Mexico against corruption and violence.
Cameron's official spokesman said: "You can expect the prime minister to raise concerns that have arisen with regard to human rights and the judicial system in Mexico.
"We have done so before and will continue to do that. We will do that in the spirit of collaboration that we have with the Mexican government and the Mexican authorities."
READ MORE: Piñata protest! Amnesty to bash Mexican torture in London embassy stunt
Pena Nieto has vowed to strengthen the rule of law in his country.
"Our democracy has not been without difficulties," he told the House of Lords, the upper house of the British parliament, on Tuesday. "In the recent past, we have experienced painful moments for the acts of barbarism committed by organized crime."
"These criminal acts have made clear that we must continue to strengthen the rule of law."
Amnesty International criticized the government of former president Felipe Calderon, which declared a "war" against drug traffickers in 2006.
"Since Mexico launched a 'war on drugs' in 2006, there have been more than 100,000 killings and over 22,000 disappearances."
Amnesty International UK's Stop Torture campaign manager Tom Davies said: "While President Peña Nieto is getting the red-carpet treatment, his police and security services have serious blood on their hands.
"With public officials complicit in drug cartel crimes, as well as thousands of torture cases of its own, President Peña Nieto needs to radically overhaul his country's woeful response to this crisis."
#UK#3M: Protest against the visit of #Mexico's President Enrique Pena Nieto, in #London#EPNnotWelcomepic.twitter.com/SFW0D3Furj

— th anonymous (@ori_no_co) March 3, 2015
Pena Nieto was welcomed with a banquet hosted by Queen Elizabeth II at Buckingham Palace, where he and his wife Angelica Rivera are staying until Thursday.
Ahead of the president's visit, around 150 Mexicans protested outside Downing Street, calling on Cameron not to turn a blind eye to Mexico's "human rights crisis." Some had their faces painted as skulls, traditionally worn during the Mexican Day of the Dead festival. The chanting crowd counted to 43 in memory of the missing students.
Amnesty campaigners recently delivered a 14,000-strong petition on torture to the Mexican Embassy in central London in a bright yellow three-meter-wide piñata. It was broken open by a person wearing a blindfold carrying the slogan: "President Peña Nieto: Don't turn a blind eye to torture."