'No arbitrary targets': Farage unveils UKIP immigration policy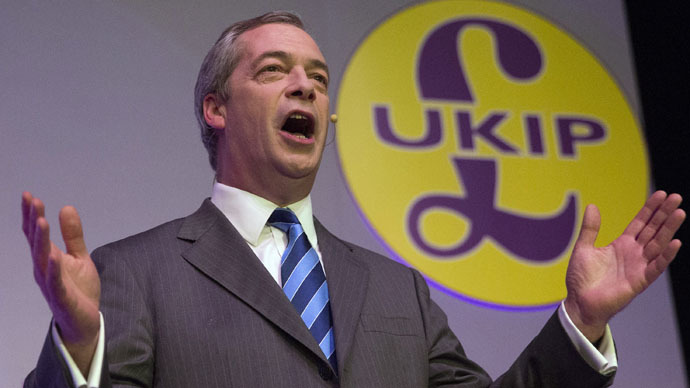 The UK Independence Party (UKIP) plans to ban unskilled immigrants from working in Britain, and launch a new watchdog to bring down net migration figures, party leader Nigel Farage announced on Wednesday.
Speaking in central London, Farage called UKIP's policy "common sense," saying the electorate does not trust any other party on the matter, adding that 77 percent of the public wanted the UK to take greater control of the border.
He pledged a "return to sanity", promising "sensible and controlled numbers" to turn "what has become a negative issue in our society, into a positive one."
Farage added that the current immigration "crisis" was having an impact on schools, the National Health Service (NHS), and "changes in the community."
The figures released last week show that net immigration stands at nearly 300,000, three times higher than Cameron's original pledge to cap immigration at 100,000, a great embarrassment for the current government.
Farage said he would not set out an "arbitrary" target ahead of the general election, but focus on giving highly skilled workers and "our Commonwealth friends" priority over unskilled immigrants.
UKIP has previously said it wants to set the cap at 50,000, but the leader insists this is not a "u-turn" in policy
His suggestion of a moratorium on unskilled worker visas for five years and a points-based system, to "do as the Australians do," was met with rapturous applause at the church in central London where the speech took place.
He further believes new arrivals should not have access to the NHS, therefore requiring private health insurance.
READ MORE: 'I'd be a bad prime minister,' UKIP's Farage admits
UKIP spokesperson Steven Woolfe also spoke at the event.
He said the party would abolish the rules which give EU citizens preference over non-EU citizens, adding that UKIP would provide an extra 2,500 border staff to implement new changes.
Woolfe further controversially claimed that giving an amnesty to asylum seekers would support trafficking organisations which supply funds to terror organisations like Islamic State.
On Tuesday night, Farage called the current system "unsustainable, unfair and unethical," saying it gives preference to EU migrants over those from outside Europe.
Speaking to the BBC ahead of the speech, Farage said he wanted to bring immigration levels "back to normality."
"Normality was what we had from Windrush right up until the year 2000, where we had net migration into Britain ... between 20,000 and 50,000 people a year."
He added that since then "we have gone mad, we opened the doors to much of the world but in particular we opened up the doors to 10 former communist countries, and as a result of our EU membership we have absolutely zero control over the numbers who come."
The party leader said caps are arbitrary, and the approach to reducing immigration should be more flexible.
"I'm not putting caps or targets ... you need to have more flexibility than that. The point is this: we currently have no control over the numbers, we are incapable of debating anything now in politics without caps and targets and I think the British public are bored with it."
"In the end we can talk about numbers, we can talk about money, we can talk about the impact on wages ... but in the end there is something about this immigration debate which is about more than money. It's about communities, it's about the country in which we live," he added.
You can share this story on social media: