​UK mocks Argentina's Malvinas-Falklands banknote 'stunt'
Published time: 3 Mar, 2015 17:54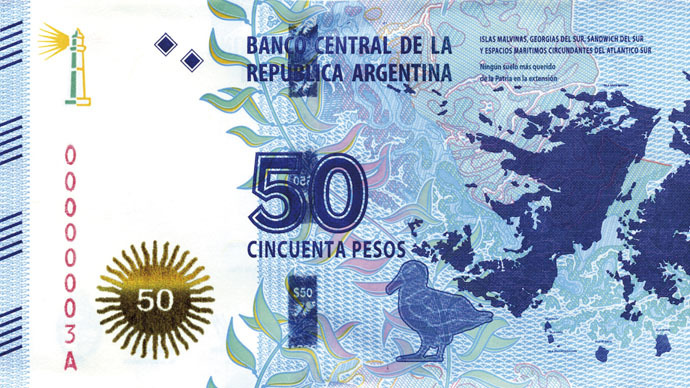 Britain laughed off a new Argentinian banknote which features an image of the Falkland Islands on Tuesday, dismissing the move as a "stunt."
A Foreign Office minister mocked the Argentinian government's 50-peso banknote, suggesting it was worthless both in terms of currency and political value.
The colorful new banknote features the archipelago of the Islas Malvinas, as they are known in Argentina, on the front.
On the reverse side is an image of Antonio Rivero, the Argentinian rebel leader who led an 1833 uprising in an effort to reclaim the islands from the British.
Rivero, who is revered as a folk hero in the South American country, is pictured on horseback waving an Argentinian flag.
READ MORE: Paper claim: Malvinas-Falklands join Argentina... on new banknote
The Falkland Islands have long been a source of tension between Britain and Argentina.
A British territory since 1833, Argentina has always claimed the archipelago as its own after claiming it from Spain in the 1800s.
Argentina attempted to seize the Falklands in 1982, sparking the two-month long Falklands War in which 649 Argentinian servicemen and 255 British were killed.
The country continues to claim the Falklands, despite the island's residents voting overwhelmingly in favor of remaining a British Overseas Territory in a 2013 referendum.
Hugo Swire, a minister of state for the British Foreign Office, derided the introduction of the note.
Speaking in Parliament, he said: "On the issue of the 50-peso banknote, we can't stop the Argentinian government from these stunts."
"It's worth a whopping £3.72 ($6) according to today's exchange rate."
"And I think it probably has the equivalent political value," he added.
In the time it took to unveil, the note went from being able to buy 2 slices of bread to 1. #Inflation#Falklandspic.twitter.com/PQG9v9lst1

— Falkland Islands (@falklands_utd) February 24, 2015
Argentina has been hit by high inflation, prompting some residents of the Falklands to joke on Twitter: "In the time it took to unveil, the note went from being able to buy two slices of bread to one."