Cameron's migration policy a 'mistake' – ex-Tory ministers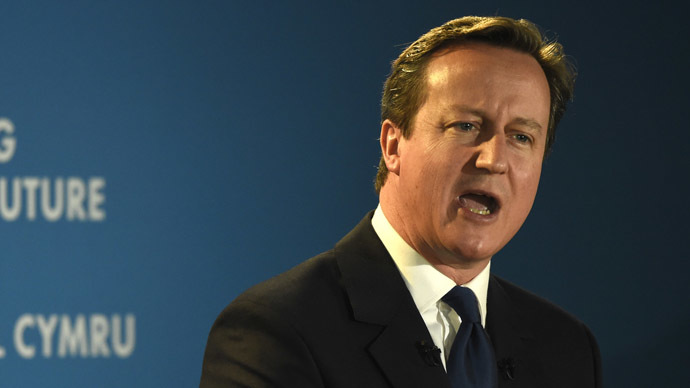 Senior Conservatives urged Prime Minister David Cameron to drop his set target of reducing annual net migration to the UK to below 100,000, as figures reveal the government failed to deliver on its pledge.
Former cabinet ministers said Cameron's promise to reduce net migration to "tens of thousands" was a mistake and set up false expectations that are undermining the government's credibility.
Ken Clarke, a former home secretary, said the prime minister's "no ifs, no buts" pledge had been a mistake.
Clarke told the Times: "I am afraid that the net migration target has proved to be a mistake. It has been defended to me as almost returning the figures to those when I was home secretary. This is true, but we weren't in a globalized economy then to the extent that we are now.
"We will have to drop the target. It would not be possible to achieve it without damaging our economy quite severely."
Instead of a decline in net immigration, the final figures to be published ahead of May's general election indicate levels reached 298,000 for the year ending September 2014.
This is a rise of 50,000 since 2010 and the highest level in 10 years.
Net migration is the figure of how many people came to Britain minus those who have left. That means a total of 624,000 people migrated to Britain in the 12 months to last September, while 327,000 departed.
Of those that arrived in the UK, 190,000 were from outside the EU.
READ MORE: 'Targets in tatters': Cameron fails to cut net migration into UK
Lady Warsi, former Conservative Party chairwoman, called the target set by Cameron "unrealistic" and warned it would set the party up for failure.
"If you set yourself unrealistic targets, you are setting yourself up to fail and, in the long term, turn the whole thing into a bigger issue by fuelling the perception that the government can't get a grip," she said.
Sunder Katwala, head of the British think-tank Future, told the Times Cameron's promise to reduce net migration below 100,000 is "the Monty Python parrot."
He said: "It is truly dead, but the prime minister is always looking for signs of twitching."
Lord Green of Deddington, chairman of Migration Watch, said the level of net migration is unsustainable. "These figures will be extremely disappointing for the public. The additional pressure on housing and public services is clearly unmanageable.
"Those who never wanted to see net migration brought down will now claim that efforts to reduce numbers should be abandoned. On the contrary, this outcome is a wakeup call to redouble efforts to tackle mass immigration."
He called for a continued effort to achieve the target.
READ MORE: UK immigration triples as Cameron fails to keep election pledge
The policy has divided the Conservatives gravely. Health Secretary Jeremy Hunt and Communities Secretary Eric Pickles have reportedly raised concerns over the policy.
However, a YouGov poll released earlier this month revealed that seven out of 10 voters want immigration reduced or stopped completely. It showed that immigration is a major public concern. Only the economy is a more important factor in the 2015 general election.
The poll also revealed six out of 10 people believe it essential that migrants are able to speak English, while 67 percent said British people should be given priority for jobs.