​'Torturing terror suspects produces useful intelligence' – ex-MI6 director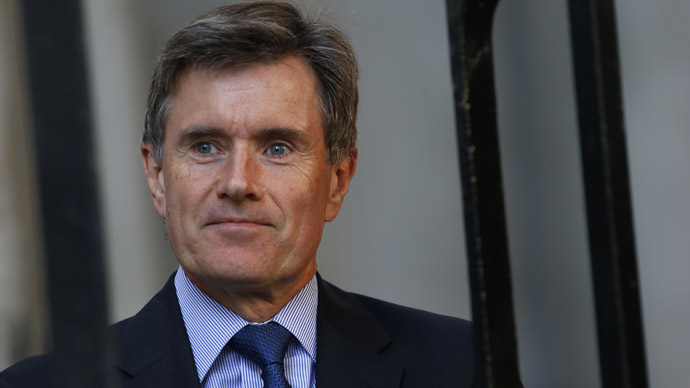 Intelligence thought to have been derived by torture in Saudi Arabia helped to foil a terror attack on UK soil, it has emerged. Reflecting on the revelation, the ex-head of MI6 said torturing terror suspects produces "useful information."
In his first interview since stepping down as MI6 chief, Sir John Sawers made the controversial statement to the BBC.
He said UK security services refrain from engaging in torture because it breaches British values. But he argued torture can be effective in the short term.
#MI5 & #MI6 directly involved in #torture, even though it is counter-productive admits ex head Sir John Sawer http://t.co/3Q58Qf0li1

— markhughes (@markhughes) March 1, 2015
Sawers' remarks were condemned by director of human rights group Liberty Shami Chakrabarti.
"The one thing I could never have predicted is in 2015 we would be having to talk about torture in the UK," she told the Independent.
Britain's security services have also come under fire from UK human rights group Cage.
The human rights organization warns MI5 and MI6's use of torture directly contributed to the radicalization of Michael Adebolajo and Mohammed Emwazi.
Emwazi was identified yesterday as the true identity of Jihadi John, an Islamic State (IS, formerly ISIS) militant thought to be responsible for slaughtering hostages in Syria, while Adebolajo was convicted of murdering British soldier Lee Rigby in 2013.
Speaking to the BBC, Sawers strongly rejected the argument secret service practices are radicalizing young Britons. He stressed torture has been deployed for "thousands of years in order to extract useful information."
Ex-#MI6 chief who said on #BBC "Jihad is one of the 5 pillars of #Islam" also believes #torture works. http://t.co/GgQK1XCzfR#JihadiJohn

— Moazzam Begg (@Moazzam_Begg) March 2, 2015
Sawers' remarks come as new details of a foiled Al-Qaeda terror plot targeting British and American citizens surface.
According to an exclusive Independent report, the attack was intercepted in 2010 by a dramatic "real time operation" spanning continents.
Al-Qaeda had conspired to attack two separate airliners as they travelled over the eastern United States.
UK authorities uncovered a bomb disguised in a printer cartridge on a UPS cargo plane at East Midlands Airport, following a tip-off by Saudi Arabian officials.
The tip-off prompted a frantic search operation, with security officials battling against the clock to detect the device. UK officials subsequently disarmed the bomb at an airport cargo hub. A second similar device was also uncovered on board a freight plane in Dubai. Both planes reportedly originated in Yemen.
An intelligence source, who wished to remain anonymous, told the Independent: "The people in London went back on the phone two or three times to where the interrogation was taking place in Riyadh to find out specifically where the bomb was hidden."
"There were two Britons there, in immediate communication with where the interrogation was taking place, and as soon as anything happened, they were in touch with the UK."
MT @UK_CAGE: Former MI6 head Sir John Sawers justifies the use of #torturehttp://t.co/ebzTUc8cNO

— Hodan YusufPankhurst (@hyfreelance) March 1, 2015
Another inside source told the Independent the majority of Britons would say torture is "defensible" in a "ticking bomb scenario."
He said while it is publicly claimed UK officials do not engage in acts of torture, they are "very happy beneficiaries of it."
A third source, with knowledge of the East Midlands bomb operation, said British officials attempted to dissociate themselves from torture happening in Saudi Arabia. He added, however, that the intelligence aided in the successful disarming of the 2010 bombs was undoubtedly derived "under duress."
"Of course we use intelligence from torture. We take it from wherever we can get it, but we are never ever going to say 'we don't want that,'" he said.
The source told the Independent that intelligence officials rarely ask too many questions about where tip-offs come from. That is the "difference between intelligence and evidence," he said.
former #MI6 chief #Torture works in short term but counterproductive. Surely same for internet snooping ? http://t.co/3mr7y6sOIm 01:35 - 50

— Spy Blog (@spyblog) February 28, 2015
Prime Minister David Cameron alluded to the foiled terror attack earlier this month when he referenced "a piece of information" from Saudi Arabia that potentially saved "hundreds of lives."
Earlier this month, it was revealed a suspected terrorist is arrested every day in Britain in connection with Islamic extremism.
Metropolitan Assistant Commissioner Mark Rowley said the growing threat from returning fighters who have joined the IS means that extremists are being detained on a near daily basis, with attacks from "misfits and criminals" feared.