Homelessness rises 55% under 'disgraceful' Tory govt – charity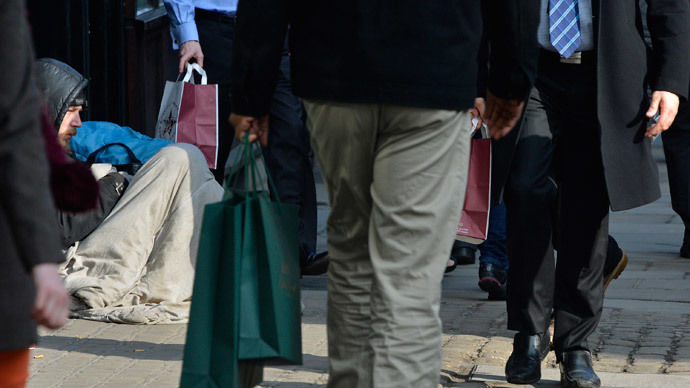 Devastating figures released by the Department for Communities and Local Government (DCLG) reveal a significant 55 percent rise in homelessness since David Cameron became prime minister in 2010.
The official figures released Thursday say that 2,774 people slept rough in England in 2014, up from 2,414 in 2013 and 1,768 in 2010, the year the coalition government was formed.
Homelessness charities are urgently calling on party leaders to review the situation.
London now has 742 people sleeping rough every night, an increase on 2013 figures of 37 percent, compared with a rise of 7 percent nationwide.
The charity Centre Point confirms the number of rough sleepers in London has increased by nearly 40 percent in the last year.
London Mayor Boris Johnson, who six years ago pledged to end rough sleeping in the capital by 2012, has also been asked to account for the figures.
The homeless charity Crisis say the rise has been caused by cuts to benefits, government welfare reform, housing shortages and the legal injustice where homeless people are not a "priority for help."
Councils are "turning people away" to sleep on the streets, according to the charity.
"These figures show that the law is badly failing people facing homelessness," said Crisis chief executive Jon Sparkes.
Top 10 #roughsleeping hot spots | Download our analysis of today's Government figures http://t.co/qzPvsteF8Gpic.twitter.com/a6oDAZqif7

— Homeless Link (@HomelessLink) February 26, 2015
"As the law stands, far often when single people ask for help, they are turned away to sleep on the street. Homelessness is a frightening and isolating experience – the average age of death for a homeless person is just 47."
He added: "No one should be condemned to these dangers. That's why we're calling on political parties to commit to review how the law protects people from the devastation of life on the streets."
Homelessness Monitor, however, believes the actual number of rough sleepers could be up to four times the official figure, which the government admits are "too difficult to record precisely."
The UK government needs to do something to help the homeless, I've noticed a massive increase in the number of homeless people lately.

— 50 §h4D35 0F J (@jamiesince1990) February 20, 2015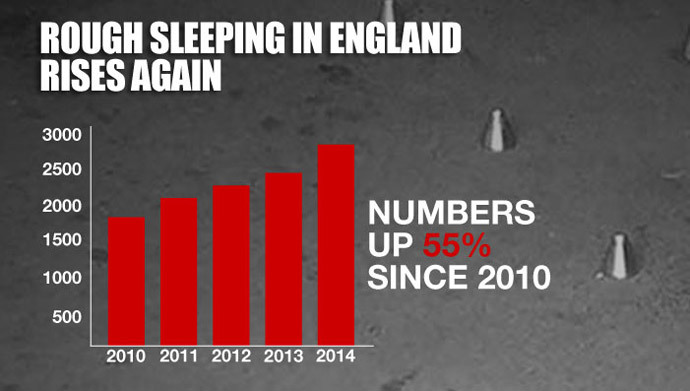 Emma Reynolds MP, Labour's Shadow Housing Minister, labeled the increase as "shocking."
She finds it "disgraceful" that the Tories have "not only failed to act, but their policies have made things worse."
"The prime minister once said homelessness and rough sleeping were a disgrace. But warm words are cold comfort to those sleeping rough if you fail to act."
READ MORE: Homeless & immigrants targeted by bootleg alcohol makers - report
Housing costs and low pay have made it "more and more difficult" for people to keep a roof over their head, the MP says.
Conservative Communities and Local Government minister Kris Hopkins said he "remains concerned" about the rise, but laid a portion of blame on immigration and "the rise in foreign national rough sleepers in London."
You can share this story on social media: