3-parent babies 'violate human dignity,' breach EU law – MEPs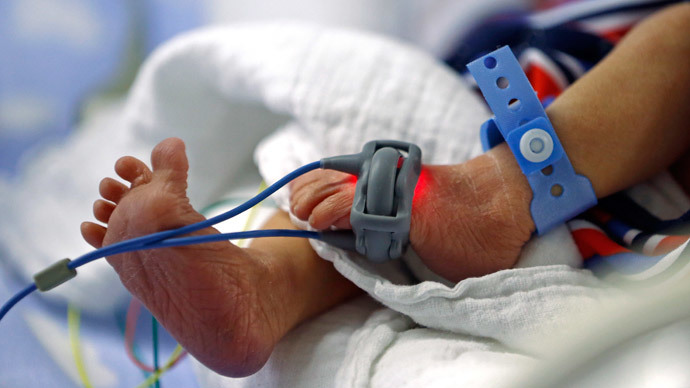 Britain's recent decision to allow the creation of co-called 'three-parent babies' has breached EU laws and "violated human dignity," a group of MEPs have said.
The European Commission has been asked to step in to halt the move, which will allow the genetic material of a "second mother" to be used to repair genetic faults in mitochondrial DNA.
Over 50 MEPs have written to Prime Minister David Cameron urging him to withdraw the legislation, which was passed earlier this month, saying the effects of the procedure are "unethical."
The open letter warns Cameron that clinical trials due to begin this year go against EU law, which prohibits genetic alterations that can be passed down to the next generation.
"We are writing to you to express our profound concern at the intention of the UK to permit the modification of the human genome," the MEPs wrote.
"Your proposals violate the fundamental standards of human dignity and integrity of the person. Modification of the genome is unethical and cannot be permitted."
"These proposals put the UK out in front of a race to the bottom so far as standards of human dignity are concerned," they added.
Slovakian MEP Miroslav Mikolask has further tabled a question in the European Parliament which requests the European Commission "take steps" over the UK's "lack of compliance" with EU law.
The House of Lords voted Tuesday for a change in the law to allow the treatment of mitochondrial DNA. The peers rejected an attempt to block the plan by 280 votes to 48.
The techniques are still in their research stages in laboratories in Britain and the United States. However, the first baby conceived using DNA from three different people may be born as early as 2016.
READ MORE: 3-parent babies: Britain first to legalize radical DNA treatment
A spokesperson for the Department of Health said: "Parliament's decision will bring hope to hundreds of families affected by mitochondrial disease.
"We are proud to be the first country to allow these revolutionary techniques.
"For the first time ever, women who carry severe mitochondrial disease will have the opportunity to have healthy babies without the fear of passing on devastating genetic disorders."
A three-parent child would have nuclear DNA determining individual traits such as facial features and personality from its two parents, plus a tiny amount of healthy mitochondrial DNA (mDNA) from a female donor.
Following the decision, the Center for Genetics and Society (CGS) said it was "a historic mistake" and warned the technique "will turn children into biological experiments."
"The techniques in question are relatively crude and will not in and of themselves create so-called 'designer babies,' as that term is typically understood," the group said.
"However they will result in children with DNA from three different people in every cell of their bodies, which will impact a large range of traits in unknowable ways, and introduce genetic changes that will be passed down to future generations through the female line."