Link foreign aid to defence, boost military spending – UK Lords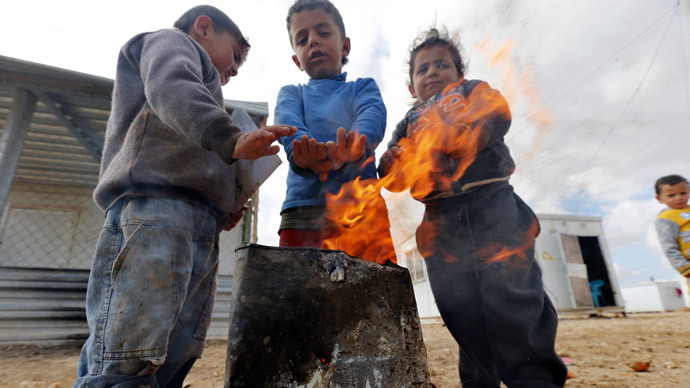 Hawkish members of the UK House of Lords will battle for increased military spending Friday, proposing that the government link foreign aid to defense budgets. They are expected to argue Britain's security is more important than its social conscience.
A bill that seeks to enforce a government pledge to spend 0.7 percent of UK GDP annually on foreign aid was debated in the House of Lords on Friday.
As Conservative MPs warned Britain's armed forces are woefully underfunded, staunch opposition to the legislation was apparent.
READ MORE: 'We couldn't cope': UK would lose war against Russia – senior RAF officers
In a bid to curb the scope of the bill, three amendments were submitted.
Peers demanded the Treasury retain the power to approve or reject the 0.7 foreign aid target on a yearly basis. They also called for the draft legislation to be shelved until the next government chooses to enforce it.
A third proposed amendment would ensure the aid budget can never surpass 35 percent of Britain's defense budget. This would mean Britain would honor its NATO commitment to allocate 2 percent of its GDP to military spending.
If one or more of these legislative amendments are approved, the bill will be referred to the House of Commons, meaning it will not be passed before the general election.
Admiral Lord West of Spithead, who is proposing foreign development aid be linked to military spending, told The Times that "defense is more important than overseas aid."
"If you get your defense and security wrong, you can forget about education, welfare, national health service, everything because the country is stuffed," he said.
READ MORE: 'Sign of weakness': Tories to scrap NATO's 2% defense spending target
However, the hawkish argument that ramped up military spending is a vital prerequisite to national security is rejected by academics, politicians and anti-arms campaigners.
UK think tank Campaign Against The Arms Trade (CAAT) argues an inverse logic is required. It says the UK government must "shift priorities to tackle the root causes of insecurity."
"For individuals in the UK and all over the world, security means having basic needs met and feeling safe in our homes and communities," the campaign says.
"In contrast, the government views security almost exclusively through a military lens. Its National Security Strategy is based on military force and the projection of power."
Friday's controversial debate in the House of Lords follows a stark warning by the Foreign Affairs Committee that further cuts to Foreign and Commonwealth Office (FCO) spending could be "disastrous."
The committee says continued cuts to FCO spending will jeopardize the government's capacity to pursue informed foreign policies, such as whether or not to wage war.
In a damning FCO report published Friday, the committee portrayed the FCO as coming under mounting pressure.
"If further cuts are imposed, the UK's diplomatic imprint and influence would probably reduce, and the government would need to roll back some of its foreign policy objectives," the report said.
As the West's relations with Russia remain fraught, Conservative MPs warn threats posed by President Vladimir Putin's assertive foreign policy and Islamic State terrorism have bred the "most dangerous" global climate the world has seen since the mid-1990s.
READ MORE: Cameron commits troops & 'non-lethal aid' to Ukraine
Speaking to RT Stop the War spokesperson Daniel Jakopovich said the government should place emphasis on domestic spending, rather than "squandered" resources on "foreign escapades".
"The UN's Food and Agriculture Organization stated that around $30 billion per year would be sufficient to eradicate world hunger. In other words, a fraction of the UK military budget would be sufficient to save the lives of millions of starving people in the Third World" he added.
He further said that funding military operations abroad increase division within the UK.
"Increased military spending breeds insecurity at home by enabling UK elites to conduct brutal wars which create more enemies for Britain and further alienate the Muslim population. Military spending also diverts funds which could be used for inclusive domestic policies, the improvement in the education level, health and well-being of the entire UK population".
The Lords' move to tie foreign aid spending to military spending follows the release of a report Thursday that predicts Britain's 2015-16 defense budget will likely drop to 1.88 percent of UK GDP – its lowest level since the fall of the Berlin Wall.
The findings of the report, published by the European Leadership Network (ELN), will irk Conservatives and military chiefs who have lobbied intensely against cuts to Britain's military spending.
Sir Gerald Howarth, a former UK defense minister, said it would be "utter folly" if the next government fails to meet NATO's 2 percent target.
However, CAAT's Sarah Waldron strongly rejects Howarth's argument.
"Spending vast amounts of money on military procurement and pushing arms sales doesn't enhance security, it fuels conflict, supports repression and makes the world a more dangerous place," she said.