​'Israel has right to exist, Britain has right to question its foreign policies' – Labour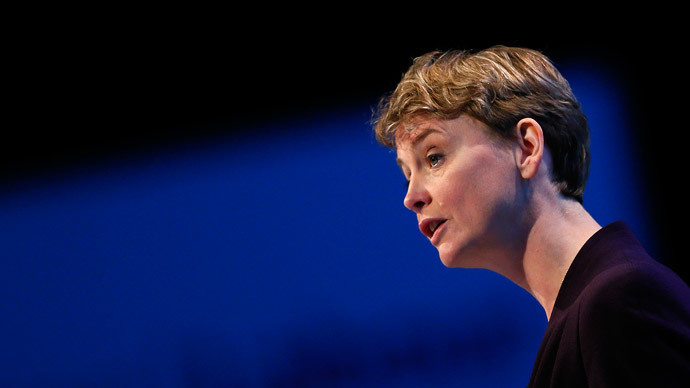 Labour's Shadow Home Secretary has rejected suggestions that UK-Israeli relations would suffer if party leader Ed Miliband becomes prime minister in May. She dismissed such claims a bid to "play party politics" with foreign affairs.
Yvette Cooper's comments were issued in an exclusive interview with the Jewish Chronicle in response to remarks made by Conservative Northern Irish Secretary Theresa Villiers.
Villiers had claimed in January a newly-elected Labour government would have a "chilling" effect on Britain's relationship with Israel.
Cooper said the suggestion that Britain's role as a key ally of Israel would be diminished if Labour wins May's general election is "utter nonsense."
"It's nonsense to say Labour is anti-Israel", says @YvetteCooperMP. Relationship w/Jewish community "strong as ever" http://t.co/rPe19KKNAy

— Marcus Dysch (@MarcusDysch) February 12, 2015
She said Villiers' bid to play political football with foreign policy issues was "disappointing."
Cooper acknowledged, however, Miliband's condemnation of PM David Cameron's response to the 2014 Gaza conflict was scathing. At the height of the conflict, Miliband had described Israel's military offensive in Gaza as "unacceptable and unjustifiable."
The Labour chief had also criticized Cameron's stance on Israel's actions, accusing the Tory leader of being too ambivalent on the military campaign.
Boycott Divestment & Sanctions: 'Tactic not principle'
While some backbench Labour MPs have signaled support for Britain's boycott, divestment and sanctions movement (BDS) against Israel, the campaign has not been endorsed by Miliband or Cooper.
The British arm of the movement is backed by academics, pro-Palestinian campaigners, and politicians across the UK.
READ MORE:UK MP says Bradford doesn't want Israeli goods, services or visitors
The BDS campaign, which is supported worldwide, says it seeks to "strengthen and spread the culture of boycott as a central form of civil resistance to Israeli occupation, colonialism and apartheid."
Launched in the Occupied Territories in 2005, it is supported by over 170 Palestinian organizations representing exiled Palestinian refugees, Palestinians in the occupied West Bank and Gaza Strip and Palestinian's who suffer discrimination in Israel.
Speaking to the Jewish Chronicle, Cooper said Miliband has made his position on boycotts against Israel clear.
"Ed does defend Israel, but that's not to say he will support every decision the Israeli government takes. No one could expect that," she added.
While addressing the UN in October 2014, world renowned linguist and political commentator Noam Chomsky was somewhat critical about the BDS campaign. He argued it is characterized by a set of tactics rather than principles.
"Tactics are not principles. They're not actions that you undertake no matter what because you think they're right," he said.
Decline in neighborhood policing
As part of her role in government, Cooper has worked closely with Jewish groups in an effort to tackle racism and hate crimes in the UK.
Amid a rising climate of anti-Semitism in Britain, the Shadow Home Secretary said government cuts had led to drop in "community-led policing." Cooper said the decline of a neighborhood police presence in Britain is problematic.
"You need that community-led policing work because people have a right to feel safe on their streets and in their homes," she added.
A poll conducted in late January indicates Israeli foreign policy has not impacted on the majority of Britons' resolve that Israel has a right to exist.
Great that PM says antisemitism goes against what UK stands for. Wish politicians would say that for all racism http://t.co/S7WSr1VlpF

— rachel shabi (@rachshabi) February 9, 2015
The survey, commissioned by the UK's All-Party Parliamentary Inquiry into Anti-Semitism, revealed 89 percent of Britons polled said the Middle Eastern state has a right to exist.
The survey suggested Britain's current rate of anti-Semitism mirrors that of 2005, hitting 4.6 on a scale of one to 10. According to the scale, one indicates anti-Semitism is "not a problem" in the UK, while 10 indicates it is "a serious problem."
In the wake of the Charlie Hebdo massacre in Paris, members of the Jewish community in North London's Stoke Newington told the Shadow Home Secretary they were concerned.
Cooper said high-profile terror attacks and anti-Semitic abuse on the street and on social media platforms can seriously impact people's day-to-day lives.
"We should never ignore that. We have to take it seriously and provide that reassurance for people," she said.
The Shadow Home Secretary insisted a newly-elected Labour government would implement measures to counter extremism and the rise of radicalization in Britain. She added a reformed strategy for tackling hate crime in Britain is paramount.
Cooper condemned social media firms for failing to intercept online anti-Semitic abuse, stressing how Labour's Lucia Berger MP was exposed to offensive vitriol from an online troll in 2014.
You can share this story on social media: