​Prince Charles meets new Saudi king amid pressure to raise human rights abuses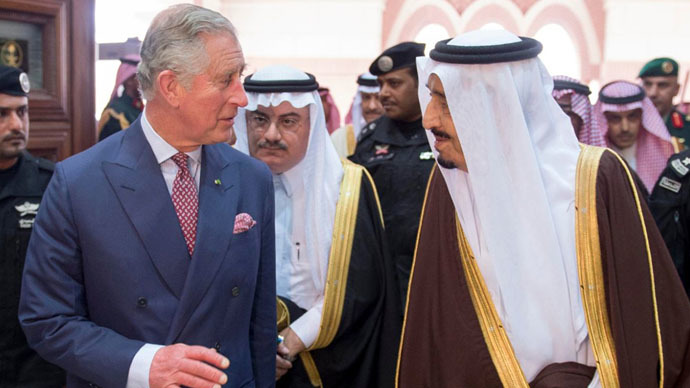 Britain's Prince Charles has met with Saudi Arabia's new King Salman and the new Crown Prince Muqrin on a tour of the Middle East – as he came under strong pressure to raise human rights concerns, including the flogging of blogger Raif Badawi.
Badawi, 31, a Saudi activist and blogger, was sentenced to 10 years in prison and 1,000 lashes. He was also ordered to pay 1 million Saudi riyals (£160,000) for setting up the Saudi Arabian Free Liberals Forum.
Human rights advocates have urged Prince Charles to bring up Badawi's plight while visiting Saudi Arabia.
King Salman, 79, is thought to be more conservative than his predecessor, his half-brother King Abdullah bin Abdulaziz, who died in January.
Amnesty International's UK director, Kate Allen, said: "We don't expect Prince Charles to give up the red carpets and state banquets and become a human rights campaigner, but as a man who knows the Middle East well we hope that he will use the visit to pass on a few well-chosen words to his royal hosts."
"We still need the UK government to do more on Raif's case, but Charles's diplomatic intercession could help to secure this man's freedom," she added.
Simon Collis, British Ambassador to Saudi Arabia, also said the prince's personal relationships with the Saudi royal family could make a difference.
"The importance of the royal family in this country means royal to royal links are of particular value," he told The Telegraph. "These kinds of visit are capable of having an impact."
Collis added that he did not know whether Prince Charles would discuss Badawi or human rights issues at the meeting.
"We have serious concerns about the Badawi case. We have raised that – it was raised by the Foreign Secretary with the Saudi ambassador recently. The Prince will be the judge of what he raises and how and when he raises it."
READ MORE:7 shocking facts about Saudi Arabia under 'modernizing' reign of King Abdullah
Prince Charles and Prime Minister David Cameron were criticized last month after visiting Saudi Arabia to pay their respects following the death of 90-year-old King Abdullah.
The decision to fly flags at half-mast at Westminster Abbey and other UK government buildings also drew criticism.
Many in the British establishment hailed King Abdullah as a reformer who pushed for more women's rights. Human rights groups, however, have described the late king as a tyrant who quashed democratic movements.
Saudi Arabia executed at least 68 people between January and November 2014, according to Human Rights Watch. Four people were executed in less than a week of King Salman assuming power.
READ MORE:4 beheaded in Saudi Arabia less than a week into King Salman's rule
In January, a Burmese woman was beheaded after being dragged through the streets and held down by four police officers as she screamed: "I did not kill."
She had been convicted of the sexual abuse and murder of her seven-year-old stepdaughter.
In 2014, a 24-year-old Saudi Arabian man was sentenced to three years in jail and 450 lashes after he was caught using Twitter to arrange dates with other men. A court in Medina had found him guilty of "promoting the vice and practice of homosexuality."
In December, reports emerged of two women facing trial in a special court for terrorism after they broke the female driving ban.
During his six-day Middle East tour, Prince Charles has already held bilateral talks with Jordan's King Abdullah and met with Christian refugees from Iraq at the British ambassador's residence in Amman.
You can share this story on social media: